Dear friends, we are close to our 5. Challenge and GT Days next week 7.-8. June.
An absolutely highlight is always our Charity Auction for "Wings for Life" at the Gala Evening on the 7th.
Last year we got sensationell 91.000,– (!) Euros in total and 84.000,– for "Wings for Life". It will be very difficult to beat, but we give our best as every year.
This year we have also so many, extremely important items for the auction that it deserves again a story here and at the website. The auction will be professional supported and handled with our new Partner RM Sotheby's.
If you are not able to join us for the Charity Auction in the evening tuesday 7st. June (around 9pm) and you want to bid, please let us know, we help you via phone. Please get in contact with Stephan Knobloch SKnobloch@rmsothebys.com (phone +43 664 300400 2)
Highlights:
Original Drivers Shoes from NIKI LAUDA – donated via Wings for Live via the Lauda famile (mille mille grazie)
1984 Mc Laren F1 Championship
The shoes where to small for him, thats why he had to cut a whole for his toes
Since then these shoes where his luck shoes and he woar them very often at F1 races
The shoe lace where new, shoes are in total original condition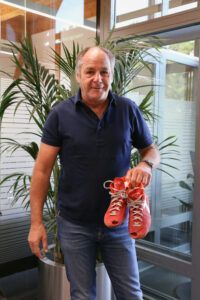 Artwork by Ertuğrul Demir – donated by the artist via RM Sotheby's
Car Model: 70cm x 40 cm x 20cm, Aluminium on a glass plate
Details about the artist: HERE
2021er Formel 1 from Red Bull Racing – donated from Red Bull via Wings for Life
World Champion Max Verstappen (#33)
Sergio Perez (#11) Turkey special livery for HONDA
Hand signed from the World Champion Max Verstappen and Sergio Perez
Original Challenge and GT Painting by Artist http://yandenes.com/ – Donated by the Challenge and GT Organisation (so it's me Heinz 😉
2021 original Ferrari cap – donated from Scuderia GOHM
Signed by Charles Leclerc and Carlos Sainz junior
Racing Shirt by Competizioni GT Works Driver Toni Vilander – donated by Jan B. Lühn
And some more items, stay tuned…