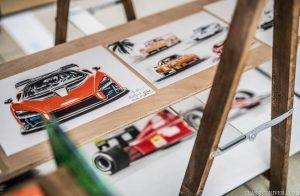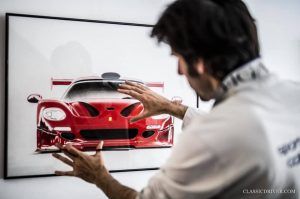 Thanks to Classic Driver for the great story about Yan whos is doing every year the official poster for the Challenge and GT Days
If you watched the 2020 Formula 1 championship, then you'll probably have seen one of Yan Denes' latest artworks on Charles Leclerc's helmet for the Scuderia 1000th Grand Prix. The helmet was ornamented with Yan's drawings of 15 championship-winning Ferrari single seaters and a portrait of Enzo Ferrari, for a total of 16 drawings to match Leclerc's race number.
Being directly commissioned by Scuderia Ferrari to create these drawings was the ultimate recognition for Denes: drawing Ferrari racing cars at speed is what he's known for, and the roots of his ambition go back far. "I've always wanted to be an artist, I love American minimal art of the '60s in particular," he says. "But I have to confess a strong love of Ferraris since age nine, when I bumped into a Ferrari rally in Corsica, where my family is from".
Few artists, like Yan Denes, understand how to make the thrill of speed tangible for the observer with pen and paper. Not only did he design Scuderia Ferrari's anniversary helmets in Formula 1, but he is also inspired by historic motorsport.