Ferrari 348 Challenge for sale
Paul Frame and the 1991 Ferrari 348 Challenge Chassis #9215
Details and Pictures here at https://www.classicdriver.com/de/car/ferrari/348/1991/561077
______________________________________________________________________
1995 Ferrari F355 Championship Winner
Asking is EUR 275.500,–
Details and direct contact to the seller HERE
(sorry no english discription) Totalt byggdes endast 108 stycken Ferrari F355 Challenge under åren 1995-1998. Av den anledningen tillhör sannolikt detta en av Ferraris mest intressanta semi-klassiker ur ett samlarperspektiv. Endast några av dessa Challenge bilar är registrerade och godkända att framföras på gatan. Det här är en av de bilar som är registrerad och godkänd. Vid inledningen av 1995 års säsong av Ferrari Challenge så var modellen F355 helt ny. Den här bilen ingick i det team av startande bilar, som Ferrari återförsäljaren i Stuttgart, Walter Lais (Lais Power) hade samlat inför seriestarten. Bilen försågs med den proffessionelle föraren Harald Brutschin vilket skulle visa sig vara ett lyckodrag. Det ledde till stor framgång och i slutet av säsongen säkrades en total seger i Ferrari Challenge Central Europe. Bilen såldes så småningom till England där den blev lackerad den klassiska röda färgen (Rosso Corsa). I England sägs den även ha fått motorn renoverad. Därifrån såldes den till Sverige. Här deltog den i Scandinavian Ferrari Challenge under åren 2002-2005. Under 2017-2018 genomgick bilen en omfattande renovering. Bilen som tidigare hade lackerats röd demonterades komplett vid renoveringen. Karossen blästrades och slipades ren. Därefter återställdes bilen med lackering i den vita originalfärgen "100 Bianco Avus". Genom omfattande research har även det grafiska utförandet återställts autentisk genom tillverkning av sponsorernas dekaler. Vid monteringen byttes även diverse slitagedelar såsom kulleder i länkarmar med mera. Motorn sågs över och fick ny kamrem samt ny vattenpump. Efter renovering har bilen endast provkörts vid ett antal evenemang och uppvisningar. Denna unika Ferrari som blev Cup Mästare 1995 har efter renovering och återställande till sitt ursprungliga utförande blivit signerad personligen av Walter Lais. Du finner mest komplett presentation på vonBraun.com inklusive 29 högupplösta foton.
______________________________________________________________________
1995 Ferrari F355 Challenge – street legal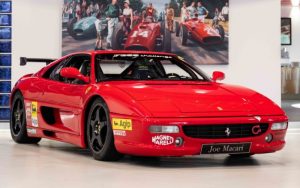 Details and more Pictures HERE
Ferrari F430 Challenge for sale by DK Engineering
Direct link to DK Engineering
Ferrari created the F430 Challenge, a track only variant of the hugely popular F430, to boost its on circuit performance by extensive weight reduction and suspension changes. Just like in previous Ferrari Challenge cars the engine has largely remained the same as on the production road cars. The F430 challenge does however, breathe a little easier by means of a racing exhaust system. Some engine management tweaks and fine blueprinting increase the power too. The body styling has received very few styling changes with just the Formula One inspired single centre lock BBS wheels hiding enormous carbon brakes.
This 2008 factory built Challenge car has had just 3 owners from new. The first two owners used the car for track days only however with the third owner the car was entered in a select few rounds of the Ferrari Pirelli Open where it was most successful and scored a couple of class wins. Following this and with just 9,000 kms covered DK sold the car in 2016 to the current owner as part of his stable of Ferrari race cars.
In the current custodians ownership the car has been professionally stored and maintained by DK Engineering with a no expense spared mantra as evidenced by invoices on file totalling in excess of £25,000 in the current ownership. Used sparingly for a handful of track days, it participated in two rounds of the up and coming, AMOC GT Challenge series in 2017. At both rounds the car scored outright wins, and latterly at Silverstone, a "perfect weekend" of Pole Position, Overall Race Win and fastest lap.
The car has always been maintained with a cavalier regard for expense and as such is in superb and "on the button" condition. It has had the necessary upgrades and is fitted with the essential upgrade FF Corse Aero-Kit; it is accompanied by a comprehensive spares package including 8 spare wheels and tyres. The car is instantly eligible and competitive for the new international Ferrari Club Racing Series, the AMOC GT Challenge and for the Global Endurance legends series which is fast gathering pace, a trip to the Red Bull Ring for the Ferrari only "Challenge and GT days" event would also be an opportunity for the new owner.
______________________________________________________________________
Ferrari 430 Challenge for sale in Italy
Info riccardo@superchallenge.net
______________________________________________________________________
Ferrari F430 GT3 for sale in Germany
2006 Ferrari FXX by RM Sotheby's Auction Monterey 2019
Chassis No. ZFFHX62X000146355
Details are following HERE
______________________________________________________________________