_____________________________________________________________________
1994 Ferrari 348 Challenge at Worldwide Auctioneers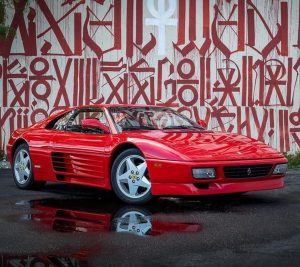 Estimate is around US $ 150.000
CHASSIS NO: ZFFRG35A5R0098818
All details and more informations about the auction HERE
• 1 of only 32 factory Challenge race cars produced by Ferrari
• One of the only cars that was never raced
• Only 20,772 miles from new
• Exceptional original condition
• Included are books, tools, records, window sticker and extra keys
3,405 cc DOHC V-8 engine, Bosch Motronic fuel injection, 312 HP at 7,200 RPM, five-speed manual transaxle, four-wheel anti-lock disc brakes, four-wheel double-wishbone suspension with coil springs and shock absorbers
The 348 Challenge cars were the first in the line of the Ferrari Challenge models which are still being produced to this day. As an important part of modern Ferrari history, genuine Challenge cars are now becoming increasingly sought-after. These original factory race cars were modified from the factory with special features that included factory roll bar mounts, racing belt eyelets behind the driver and passenger seats, lightweight fiberglass bumpers and modified suspension geometry. These special factory race cars were then shipped from Maranello to authorized Ferrari dealers for their final Challenge specification parts to be installed. These items included OMP roll cages, OMP racing seats, OMP five-point harnesses, 18" Speedline wheels, Challenge specification exhausts, Challenge springs and more. The Ferrari 348 and 355 Challenge cars have the distinction of being the last Ferrari factory racing cars produced that could be driven on the street and mark the end of an era. These last Challenge cars still retained a manual gearbox and do not have on-board computers, traction control and F1 gearboxes, making them fairly easy to repair and service. These cars are raw, pure and very fun to drive.
Ferrari produced just 32 factory Challenge cars for the American market. This exceptional example, Chassis Number 098818, was delivered new to Ferrari of Monterey, in Monterey, California. The owner's manual was signed by none other than Al Roberts, of Ferrari Challenge fame. What is most unusual and of interest to many Ferrari historians is the fact that the words "Challenge Package" and "Ferrari 348 TB Challenge" are written on its original factory window sticker. Equally rare is the fact that this 348 Challenge is potentially one of only three or four of these cars never converted for racing. It has never been raced and has spent its entire life as a road car in Southern California. This highly desirable Ferrari is in stunning original condition with original paint, original interior and with all its rare and identifiable Ferrari 348 Challenge specifications. Equally at home on the road or on the track, this is a rare chance to acquire one of the most significant Ferraris of the era.
_____________________________________________________________________
1992 Ferrari 348 Challenge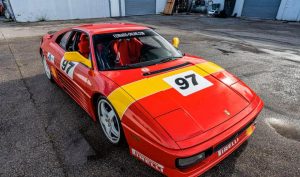 Details and more pictures HERE
We are pleased to offer 1992 Ferrari 348 Challenge s/n 93016, built new as the 2nd 348 Series Speciale, which were built exclusively for the North American market, and then updated to 348 Challenge specs. Every aspect of the 348 Series Speciale was improved, with a host of incremental changes which improved over the standard 348. The mid-mounted Tipo F119 3.4- DOHC 32-valve V8 was tuned and fitted with a freer-flowing exhaust system which boosted total output to 312 horsepower which, when combined with a shorter final drive ratio gave a 0-60 miles times of 5.3 seconds. Further enhancements included revised suspension settings, Pirelli P Zero tires, new F40-inspired front and rear bumpers, side skirts and a wider rear track, increased by 50mm. The body was further revised with new front and rear grilles (with minimal horizontal slats in the back) finished with chrome front and rear Prancing Horse emblems and unique taillights. Inside, F40 Kevlar bucket seats covered in Connolly leather were offered, with leather trim continued on the door panels and dashboard. Each 348 Speciale was designated by a sequential production number plate, affixed to the inside of the passenger side door post.
As a USA model, s/n 93016 was delivered from new with an EPA and DOT plate showing it was built to be smog legal and, unlike the later 360 and newer Challenge cars, the 348 Challenge cars are pre-OBDII, came with a "street" title and can be licensed for the street in most states. The Ferrari Challenge was launched in early 1993 as an entry-level series for the tifosi, expanding on Ferraris long history of building winning GT race cars, while energizing their fan base, and, hopefully, improving sales of the 348s. For 1993 the Challenge Series races was limited only to the Italian and European series, but in 1994 the 348 Challenge Series came to the US, with the first race on 11 Feb., 1994 at Moroso in Florida as part of the Cavallino Classic weekend. While most European model 348 Challenge cars were converted street cars, the North American market 348 Challenge cars were based on the Series Speciale 348tb and 348 ts modified by the selling dealers with a factory supplied "Challenge" kit as race cars. The widely accepted number for the Series Speciale cars is 32 TBs and 13 TSs for a total of only 45 Factory built Series Speciale 348s.
The 348 was the final design overseen by chief stylist Leonardo Fioravanti, known for many famed Ferraris, starting with the 365 GTB/4 Daytona, the 365 and 512 BB, the 288 GTO and the F40, the P5 and P6 and more. Power came from a dry-sumped 3.4-litre quad-cam, four-valve-per-cylinder V8 engine and these later cars are good for 312hp at 7,200 rpm, have a a wider rear track (50mm), a free flow exhaust system, and a shorter ratio final drive. The "T" in the model name 348 TB and TS refers to the transverse position of the gearbox. Everything that came after the 348 Series Speciale; the 355 Series Fiorano, the 360 Challenge Stradale, the 430 Scuderia, the 458 Speciale and the 488 Challenge are all descendants of the 348 Series Speciale.
This 348 Series Speciale, s/n 93016, was sold new by Miller Motorcars and in 1994 was updated to Challenge specs for the current owner with a Factory supplied OMP roll cage, OMP racing seats with Simpson 5-point racing seat belts, a Momo steering wheel, 18" Speedline magnesium wheels and an OMP cockpit and engine bay fire extinguisher. Miller Motorcars also added a racing clutch, solid suspension bushings, a large oil cooler behind the front grille and a bigger "wink" inside rear view mirror. As a 348 Series Speciale # 002 it also came with updated suspension pickup points, more power and lighter weight. Everything on these 348 Series Speciale cars was a little bit better and a little bit more evolved, righting a lot of wrongs with the earlier 348s.
The current owner bought the car in early 1994 with 2,000 miles, raced it in the second half of the 1994 season, sat out the 1995 season and the ran in the first race of the 1996 season at Homestead, Florida before retiring the car to re-enter air show flying, keeping the car until 2000 when it was sold to a friend who was interested in the car due to its pristine condition. It was highly detailed and shown at several regional and national Ferrari Concours shows including the 2000 FCA North American Field and Driving Concours at Colorado Springs, scoring a Silver class Award. The original owner bought it back in 2009 and has kept it since. 348 Challenge s/n 93016 has only 6,106 miles.
Today, this 6,106 mile Speciale presents extremely well overall with exceptionally nice paint. The hood, deck lid, and doors open and shut easily with excellent factory panel gaps and consistent bumper to body fit. The gloss white Speedline wheels are in very good condition with no notable damage to the surfaces or edges. The glass, trim, and body colored accents are all in excellent condition, including the chrome emblems and script and the lower Testarossa inspired door intake strakes. 348 Challenge s/n 93016 still carries its period racing livery and the side strakes are nicely accented with yellow pinstripes. The lighting and lenses throughout the car remain in excellent condition as well, showing no significant chips or marks, all of which appear to be original equipment.
The race seats are in excellent condition. The dash pad is nicely maintained boasting a clean instrument panel with correct factory features, gated shifter, and door panels unique to the Speciale. The engine compartment and trunk are likewise nicely maintained with good factory finishes and proper care. The engine is clean and properly maintained with factory finishes and engine components. The chassis appears very clean, free from any structural damage or compromise to the suspension or exhaust. The condition of the undercarriage further supports the mileage recorded on this car.
As one might expect of a low mileage, well maintained Ferrari, this 348 tb Serie Speciale Challenge car performs very well. The car is both user-friendly and street-able. The car starts instantly and idles with a throaty growl. The steering is incredibly responsive and communicative, with no play. There is a wonderfully linear, naturally aspirated feel to the powertrain, while braking is responsive and competent, with a firm, high pedal which inspires the driver's confidence. Visibility is very good, while the low stance and nicely gripping OMP racing seats truly validate the refinements that the 348 tb Speciale and Challenge cars received during development. The enormous grip of the 225/40 ZR 18 front and 265/40 ZR 18 rear Pilot Super Sports allows the car to be driven deceptively quickly for a 28 year old car. In 2015 348 Challenge s/n 93016 was serviced by Pocono Sports Cars with an engine out teardown, service and rebuild, new brakes, a new clutch, a new water pump and "sticky" switches at a cost of $16,722.53. We have the invoices on file. She comes four spare front and two spare rear factory wheels and four front and three rear white "Speedline" racing wheels plus a medium size spare race seat. Priced to sell at $79,500 or best offer.
_____________________________________________________________________
1997 Ferrari F355 Challenge
All details and more pictures HERE
Fort Lauderdale, Florida, 33301
2452
ZFFXR41A0V0108145
9,766
Manual
Excellent
Black
Red
Seller's Description: Low Mileage
Front Splitter
Rear Wing
Clean history
Very Fast
The Ferrari Challenge is the longest running single marque race series ever. Gentlemen drivers compete in similar cars under a strict set of rules. The racing is nearly as thrilling as the car competing.
Our F355 Challenge purchased by a New Jersey based enthusiast. He used it exclusively in club and hobby track days. Never crashing or otherwise damaging the car.
It was then passed to another Northeast based enthusiasts who seldom used the car. It was then sold to us through a Boston area Ferrari shop. We have taken it to a couple track events where it has performed flawlessly.
The car has less than 10,000 miles. It features dual racing seats, a sport exhaust, front splitter, and a rear wing. It is an excellent car for club track days, a retired Challenge car series, or just collecting.
$169,500
_____________________________________________________________________
1996 Ferrari F355 Challenge
All details HERE
Mileage : 18.350 Kms
First registration date : 1996
Color : Red
Interior color : Black
Power (kw) : 280
Power (cv) : 380
Cubic capacity : 3496cc
Number of cylinders : 8
Fuel type : Petrol
Gearbox : Manual
Layout : RWD
Number of seats : 2
More info coming soon..
_____________________________________________________________________
_____________________________________________________________________
A unique and special 1994 Ferrari F355 Challenge car with european street legal title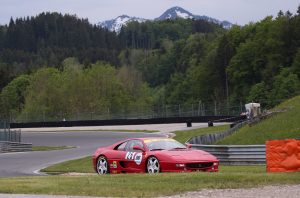 One of the FIRST – A unique and special 1994 Ferrari F355 Challenge car with european street legal title.
This 355 Challenge was delivered as a Berlinetta to a well known Ferrari Dealer. At that time there was a Challenge KIT available from Ferrari which was bought by the Dealer and mounted according to the Ferrari Cahllenge specifications into the car to race in his own Team. Thats the reason, why this car has a street legal titel. This was possible only in the year 1994, as from 1995/1996 on, Ferrari delivered purely factory made race cars without street legal titles.
The car is from 1994 so one of the first Challenge cars ever.
The car comes with a fresh service from a well known Ferrari Dealer.
This Ferrari has been restored making perhaps best condition 355 CH available anywhere.
Painted in the original Rosso Corsa.
New Paint, new livery graphics (removable if purchaser so desires), new leather dash & new leather trim around the rear window, new alcantara headliner, new Pirelli Trofeo tires, all the interior plastic switches were refinished so as to eliminate any of the so-called "sticky" parts. New Challenge set covers were obtained from Italy, including seat cushions, to restore the seats to new looking condition. A lot of Carbon parts in the interior. An engine-out service & detail was performed, seatbelts restored, new windshield (original windshield had a few pit marks), restored wheels, etc.
This F355CH marks the end of the Enzo Era. There will never be another Ferrari road and track race-car like this. A car you can drive to the track, race and drive home.
Asking price 150.000 EUR
Details: harsten@excite.com
_____________________________________________________________________
Ferrari 355 Challenge – Ferrari Official Certification
Details and more pictures HERE
1995 Ferrari F355 Challenge – street legal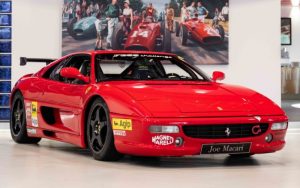 Details and more Pictures HERE
2006 Ferrari F430 Challenge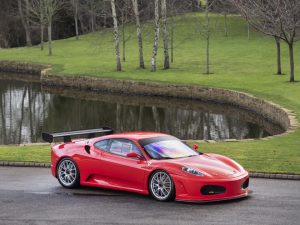 All details and more pictures HERE
2007 Ferrari F430
Ferrari F430 GT3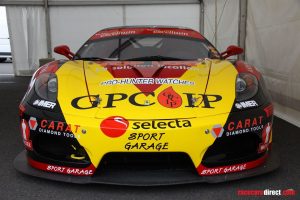 Details and more pictures HERE
Ferrari F430 GT3 prepared by Kessel. 152955#6
54 cars produced in F430 GT3 specification including 14 modified in F430 GT3 Scuderia spec.
The car did the 2 seasons in Team Sport Garage.
She did the FIA GT / FFSA GT French championship in 2007 and 2008 and the 24 Hours of Spa Francorchamps in 2007 and 2008.
To date this Ferrari 430 GT3 is eligible for the following championships:
– Club GT Competitzioni
– Classic Spa
– Tourism Endurance Trophy
– Master Endurance Legend
Complete restoration in 2019 put in its configuration of the 24 Hours of SPA.
_____________________________________________________________________
Ferrari F430 GT3 for sale in Germany
2001 Ferrari 550 GT1
All details about the car HERE
1 of 2 cars built by Italtecnica for Team Rafanelli for the 2001 FIA GT Championship and driven by Naspetti and 'Schiattarella with solid results including leading the Spa 24 Hours
Reworked by JAS Engineering and sponsored by Red Bull for the 2002 Season, driven by Riccitelli and the legendary Dieter Quester
Run by JMB Racing in 2003 and driven by Terrien, Derichebourg and Pescatori in FIA GT with overall wins in the Italian GT Series
Finally competed in 2004 with multiple wins, ending its period career with a win for Case and Toto Wolff
An important contemporary racing Ferrari eligible for the Global Endurance Racing Legends Series and the Masters Endurance Legend Series
The Ferrari 550 Maranello marked a return to the 'traditional' Ferrari values set by the iconic Daytona in the 1960s, albeit with 100bhp extra to spare. The forward positioned V12 could produce 485bhp at 7,000rpm, so unsurprisingly privateers were quick to develop them for track use.
This 550 was one of only 2 cars built by Italtecnica for Team Rafanelli for the 2001 FIA GT Championship. Run by the rambunctious Gabriele Rafanelli, the team of Naspetti and Schiattarella campaigned this car at 500km of Monza, Spa 24 Hours, 3 Hours of Brno and 3 hours of Silverstone, before it passed to JAS Motorsport who reworked it for the 2002 season with sponsorship from Red Bull.Drivers for the 2002 seasons included Riccitelli and the indomitable Dieter Quester.
Successes continued in 2003 with JMB racing, these included victories in the Italian GT Championships in both 2003 and 2004 with drivers including Terrien, Derichebourg, Pescatori and Toto Wolff. #11581 has been consistently campaigned ever since, and recently benefited from gentle restoration and cosmetic overhaul to return it to its eye-catching 2002 Red Bull livery. An exciting opportunity to acquire one of Ferrari's greatest modern creations, eligible for the Global Endurance Racing Legends Series and the Masters Endurance Legend Series.
_____________________________________________________________________
2001 Ferrari 550 GTS Prodrive at RM Sothebys Auction in Monaco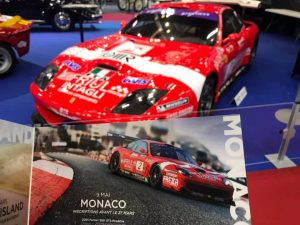 Direkt link to the Auction HERE

2004 FIA GT Championship Spa 24 Hours, Spa-Francorchamps, Belgium. 31st August 2004.