________________________________________________________________________________________________
For sale – 1994 Ferrari 348 "Factory Challenge"
1996 Ferrari F355 Challenge (street legal) for sale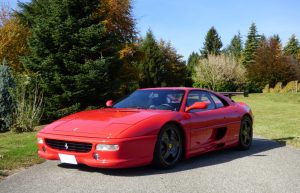 Direkt link to the sale: http://www.jeanlainvintage.com/vehicule/14962-ferrari-f355-challenge/
Asking Price is EUR 175.000,–
Discription only in French
Historique et restauration
1997 F355 Challenge with 1998 Evolution, Road Legal
More Details about the car and the contact to the seller: http://www.fchgt.com/forum/viewtopic.php?f=10&t=903
It's a F355 Challenge from march 1997, Road Legal with the 1998 Kit, 56 000 kms,
165 000 €,
This car has been quite lightly raced in it's life. Originally supplied to Ferrari Garage Francorchamps in Belgium for Peter Kutermann,
The car was prepared during for year by Arnaud in garage Francorchamps and run for 4 years in the Belgium Challenge,
It then came to the UK, and was used on Club Fiorano track days by Gary Culver, The car has enjoyed 9 class or race wins from 12 starts in 2008 / 2009 with Gary, the car was meticulously prepared and maintained for Gary by David Preston.
In 2010 i bought the car to Gary, and i did some little challenge with it, in France.
Since two year i don't use the car on track anymore, i just keep the car for the week-end, pleasure with my son, car and coffee etc,
My car was maintained by Fiorano Racing in France, with many invoices since 2010 (31 K€)
My Challenge is complete, with all the piece of the challenge 1998, with option for this year, bumper in carbon fibre,
Matching color, matching motor, roll cage, OMP Challenge seat, big F40 LM brake with boas, two set of speedline magnesium wheels, general fire extinguisher, carbon door panel, gear radiator, additional water radiator, additional oil radiator, fast gear filling, two exhaust,
You can see my car near Paris, about 20 kms from Paris porte maillot.
________________________________________________________________________________________________
1997 Ferrari F355 Challenge for sale – ex Paul Newman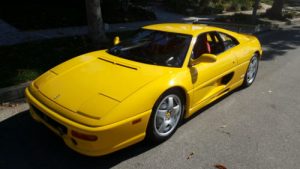 Asking is US 249.000 $
There are several factors, outlined below, that make this Ferrari particularly rare, desirable, collectible and unique.
This Ferrari marks the end of an era for Ferrari, but it is the last known factory built road and track Ferrari with a legitimate title from a Ferrari dealer: Again, this is the last true road and track Ferrari sold with a title from a Ferrari dealer, usable on the street and racetrack.
First: This is the last in a long line of classic Ferraris that could be driven to the track, raced and then driven home, just like the legendary 250GTO. It is a Ferrari race car yet it features power windows, power mirrors, a leather dash with classic analog gauges and a horn. None of the Challenge cars built after this are dual purpose cars. (Not the 360CH, 430CH, 458CH nor 488).
Second: It is the last Ferrari race car built that features the classic Ferrari gated shifter and a manual gearbox. Unlike later Ferrari Challenge cars, this Ferrari features gear ratios that are perfectly suited for the road and track and a clutch that can be driven on the street and track.
It is also the Ferrari, for track or road, produced that actually features a true mechanical connection from your right foot, via an actual accelerator cable, to eight individual throttles. After the 355/550 Ferrari went to drive by wire and the actual physical connection between the driver and the engine was forever severed.
Third: TITLE FROM FERRARI DEALER. What makes this Ferrari particularly unique and desirable is the fact that while there are believed to have been only 108 or 109 factory constructed 355CH racers (I have spoken directly with Ferrari in Maraenello ), this is the only 355CH known to have been sold with a road Title from a Ferrari dealer. This is the only known factory built 355CH that comes with a Title from a Ferrari dealer so it can be driven on the street legally. All 1996 or later 355CH were built by the factory and all 1996 and later 355CH were to be sold without Titles as they were to be race use only.
This is because when OBDII cars were mandated for 1996 Ferrari could no longer sell the 1995 model for road use in the United States. However, the 355 Challenge series was based on the OBDI cars. So when customers wanted new cars to race in the 355 Challenge Series Ferrari would, at the factory, build a brand new, OBD1 355 Challenge race car. But as the U.S. Government prohibited the sale of OBD1 cars for road use, Ferrari sold these new, post-1995 cars as for race use only. For whatever reason, this car was actually titled and by the actual owner of multiple Ferrari authorized dealerships, making this car truly unique and desirable. Actual factory built 355CH, not the kit based cars but fully factory built cars, do not have titles and thus cannot be driven on the street—except this one does have a Ferrari dealer issued title and it is therefore usable on the track and on the street. (While some people may have later finagled titles in round about ways, they do not have Titles from Ferrari)
Fourth: In addition to this Ferrari's unique rarity (see below), this Ferrrari 355CH is also believed to be the Ferrari Paul Newman drove at Lime Rock. Pictures of Newman in the Ferrari were displayed at the Ferrari factory museum, at the 60th Anniversary Ferrari festivities and in articles around the world.
This car's ownership history features a series of older Gentleman racer-collectors. The car was maintained by the most renown company in the United States. In fact, there is a 355CH on display at the Ferrari Museum in Maranello and the car on display is one of this shop's cars.
This 355CH was restored in 2015-2016. The Engine out service was performed and the motor detailed.
The interior was restored with new leather on the dash and a beautiful Alcantara headliner.
The rear leather shelf was also fitted with better than OEM leather trimming which is clearly visible through the rear quarter glass.
All the interior plastic switches were refinished so as to eliminate any of the so called "sticky" parts.
New Challenge seat covers were obtained from Italy, including seat cushions, to restore the seats to new looking condition.
The racing seat belts were also refreshed.
The under carriage was detailed.
The lightweight Challenge wheels were refinished.
New Pirelli Trofeo tires were fitted.
The Ferrari was painted with the proper Ferrari Gallo using the formula from the 275GTB.
Sold AS IS.
Direkt link to the sale https://www.ebay.com/itm/1997-Ferrari-355/173136713102?hash=item284fc0958e:g:OyoAAOSw6GJaSFrR&vxp=mtr
________________________________________________________________________________________________
360 Challenge Privateer N-GT Ex. Scuderia Ecosse
All Infos, Details and Pictures HERE
For sale here is a 2003 Ferrari 360 Challenge chassis #131407 which was placed second in the 2003 Ferrari Maranello Championship run by Scuderia Ecosse and driven by Chris Niarchos.
________________________________________________________________________________________________
2003 Ferrari 360 GT Michelotto
Description:
Ferrari 360 GT
This historic 360-GT, chassis 2010, was assembled by Ferrari/Michelotto
Never raced again after 2003, but has since been highly detailed and restored with engine and gearbox rebuilt. It has been demonstrated at some special events, with limited running time. The condition is spectacular for a collector and not typical of used race cars. Importantly the car was further developed, in conjunction with Michelotto, with a much more reliable and durable Michelotto/Hewland gearbox with sequential shift. This car has played a significant part in Ferraris FIA GT victory records, is eligible for many events around the world, and is a piece of choice for any race car collector. Entirely revised, Race ready.
Car is currently fitted with Michelotto / Veloqx spec engine #27, and Michelotto option Ferrari / Hewland NLT gearbox as raced.
Total mileages
· 2002 : 3864kms
2003 : 15,100kms
· Mileage on step 3 engine currently installed, engine #27 : 3,378kms
Basic specifications
· Tony James wiring looms and junction boxes,
· Veloqx developed suspension geometery, 1,297kms on dampers,
· Front AP brake calipers,
· AP racing pedal box,
· Lightweight bodywork,
· High and Low downforce wings,
· Latest level Hewland / Ferrari sequential gearbox, 4,500kms on casing, new gear cluster & CWP bearings
· Magnetti marelli Dass 4 data logger,
· Fuel counter employed to run race strategy,
· Four linear damper pots,
· Steering pot,
· SACHS 4 way adjustable dampers
· Fuel pressure sender,
· Additional oil pressure log,
· 1 x 4 input analogue to CAN box
· Carbon air boxes
· BERU tyre pressure monitoring integrated into marelli data logger,
· Heavyweight long distance headers : 3,378kms,
· Long distance wheel bearings : 1,297kms
· Tripod drive shafts : 1,297kms
Additional extensive 24 Hour spares package including Fresh Zero mileage engine from Michelotto avalible at a additional price.
Maranello Motorsport Melbourne Australia.
Website:
http://maranellomotorsport.com.au/
Contact seller
Details:
Seller: mcoffey
mark coffey
Seller's other ads
Country: Australia
City: Victoria
Phone: +61-3- 9421-3488
+61 418389086
Currency: EUR
Trade or Private: Trade
Price: €275,000+VAT
Added: 09/11/2017
________________________________________________________________________________________________
Ferrari 430 Challenge for sale in Italy
Info riccardo@superchallenge.net
________________________________________________________________________________________________
For sale – 2006 Ferrari 430 GT2
Talk about the car here at the board: http://www.fchgt.com/forum/viewtopic.php?f=4&t=843
Direkt link to GTC: http://www.gtc-collection-cars.com/car-for-sale/2006-ferrari/f430-gt2-300.html
Chassis 2446
One of the 41 Ferrari 430 GT Series 1 produced.
Nice racing history.
The car entered the 2008 24 Heures du Mans with Joey Foster, Don Kitch Jr and the Hollywood actor Patrick Dempsey.
It is sold with an extra set of wheels + some spare parts.
Michelotto totally revised the engine (38.000 Euro invoice) and the car was never raced since.
Eligible for the Le Mans Legends races organised by Masters Historic
________________________________________________________________________________________________
________________________________________________________________________________________________
________________________________________________________________________________________________
Ferrari 458 GT3
Description:
Ferrari 458 GT3
New Bodyshell/gearbox before the finale BP endurance race at NBR 2015.
Gearbox/drivetrain/Chassis has done aprox 900 km. Engine 9.500 km.
Car was not raced in 2016.
To be sold with 3 sets of wheels some spares and equipment to run the car.
Very rare opportunity to buy a Ferrari 458 GT3 as new.
Asking: EUR 298.000,–
________________________________________________________________________________________________