Ferrari 348 Challenge for sale
Paul Frame and the 1991 Ferrari 348 Challenge Chassis #9215
Details and Pictures here at https://www.classicdriver.com/de/car/ferrari/348/1991/561077
1993 Ferrari 348 Challenge
Asking Price is EUR 145.000,–
Details HERE
1995 Ferrari F355 Championship Winner
Asking is EUR 275.500,–
Details and direct contact to the seller HERE
(sorry no english discription) Totalt byggdes endast 108 stycken Ferrari F355 Challenge under åren 1995-1998. Av den anledningen tillhör sannolikt detta en av Ferraris mest intressanta semi-klassiker ur ett samlarperspektiv. Endast några av dessa Challenge bilar är registrerade och godkända att framföras på gatan. Det här är en av de bilar som är registrerad och godkänd. Vid inledningen av 1995 års säsong av Ferrari Challenge så var modellen F355 helt ny. Den här bilen ingick i det team av startande bilar, som Ferrari återförsäljaren i Stuttgart, Walter Lais (Lais Power) hade samlat inför seriestarten. Bilen försågs med den proffessionelle föraren Harald Brutschin vilket skulle visa sig vara ett lyckodrag. Det ledde till stor framgång och i slutet av säsongen säkrades en total seger i Ferrari Challenge Central Europe. Bilen såldes så småningom till England där den blev lackerad den klassiska röda färgen (Rosso Corsa). I England sägs den även ha fått motorn renoverad. Därifrån såldes den till Sverige. Här deltog den i Scandinavian Ferrari Challenge under åren 2002-2005. Under 2017-2018 genomgick bilen en omfattande renovering. Bilen som tidigare hade lackerats röd demonterades komplett vid renoveringen. Karossen blästrades och slipades ren. Därefter återställdes bilen med lackering i den vita originalfärgen "100 Bianco Avus". Genom omfattande research har även det grafiska utförandet återställts autentisk genom tillverkning av sponsorernas dekaler. Vid monteringen byttes även diverse slitagedelar såsom kulleder i länkarmar med mera. Motorn sågs över och fick ny kamrem samt ny vattenpump. Efter renovering har bilen endast provkörts vid ett antal evenemang och uppvisningar. Denna unika Ferrari som blev Cup Mästare 1995 har efter renovering och återställande till sitt ursprungliga utförande blivit signerad personligen av Walter Lais. Du finner mest komplett presentation på vonBraun.com inklusive 29 högupplösta foton.
________________________________________________________________________________________________________________
1995 Ferrari F355 Challenge – street legal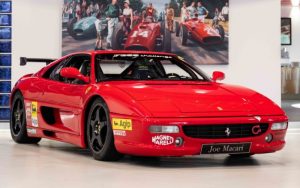 Details and more Pictures HERE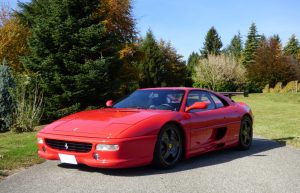 Direkt link to the sale: http://www.jeanlainvintage.com/vehicule/14962-ferrari-f355-challenge/
Asking Price is EUR 175.000,–
Discription only in French
Historique et restauration
1997 Ferrari F355 Challenge by Silverstone Auctions
Description:
To be sold by Silverstone Auctions at 'Autosport International' on Saturday 12th January 2019 at the NEC, near Birmingham B40 1NT. For more information please contact classic car specialist Arwel Richards on +44 (0) 7434 960868.
Registration: N/A
Chassis Number: ZFFXR418000107845
Engine Number: 45115
Number of cylinders: 8
CC: 3500cc
Year of Manufacture: 1997
RHD/LHD: Left Hand Drive
Estimate (£): 90,000 – 105,000
(+buyer's premium of 15% including VAT @ 20%)
Delivered new to Venezuela in 1997 for use in the Ferrari Challenge Series
Officially certified as one of the 108 cars produced by the factory for track use
Sourced by our vendor from the United States in 2008 for use in the Ferrari Owners Club GB Series
Extensive works included a BTB race exhaust system, carbon fibre panels and interior, and a full engine rebuild
The car has won six races, several podiums, set fastest lap records for its class and won the series in 2018
Presented to auction freshly painted. Original steel panels and dashboard. Three sets of wheels.
In 1995, Ferrari introduced a race-ready F355 Challenge model designed for use specifically in the Ferrari Challenge Series. The bespoke model was created by starting with a standard Ferrari F355 Berlinetta and modifying it with a $30,000 factory-to-dealer supplied kit. Initially in 1995, the cars were supplied with factory fitted cage mounts and without carpets, however, each year, the cars arrived with more and more factory fitted race parts, culminating in 1998 with full-evolution cars which were supplied as virtually complete race cars.
The factory modifications were more substantial than the 348 Challenge and the engine, gearbox and shock-absorbers were sealed with special tags to prevent unauthorised alterations. The factory fitted modifications included a roll-cage, racing bucket seats, manual radiator fan control and upgraded fans, competition steering wheel, competition clutch, upgraded 14″ Brembo brakes (carried over from the F40), solid suspension bushes, competition springs, and brake cooling ducts amongst a number of other detail changes from the base car.
The F355 'Challenge' shares the same engine and physical dimensions as the original car and 108 cars in total were produced, all with the 6-speed manual transmission. According to the accompanying Ferrari Certificate of Origin, the car was first delivered on the 29th January 1997 destined for Venezuela with engine number 45115. The delightfully named National Commission of Speed of Venezuela issued a certificate in 2000 that stated the car was raced thirty times in the Ferrari Challenge Cup during the 1997, 1998 and 1999 seasons, gaining second place twice, piloted by Juan Iliopoulos.
Mr Iliopoulos emigrated to the United States in 2000 taking the car with him and placing it into storage. Our vendor, whilst on holiday in the United States, came upon the car in 2009 and bought it directly from Mr Iliopoulos as a non-running car. Importing it into the UK, our vendor commissioned award-winning Ferrari racing car specialists, RNR Performance Cars of Kent, to carry out a program of extensive recommissioning works. We can supply a full list of works, but in brief, the car benefitted from a BTB race exhaust system, a safety fuel cell, and carbon fibre doors, bonnet, boot lid, panels, and dashboard. A full engine rebuild took place less than 25 hours ago at a cost of some £30,000. Once race ready, our vendor entered the Ferrari Owners Club series winning six times, enjoyed a number of podium appearances, set numerous Class lap records, and topped it off by winning the series in 2018.
The car was freshly painted in August 2018 and is supplied with three sets of sets of wheels and tyres, the original steel panels and dashboard, a history file detailing previous ownership, the aforementioned certificates, and a substantial number of invoices for race preparation, maintenance and attention. To conclude, this F355 Challenge is not merely a weekend track-day toy but a proven race-series winner in the hands of just two gentlemen racers, and one of just 108 Maranello-produced examples.
_____________________________________________________________________________________
For sale – Ferrari 360 N-GT
For sale at https://www.janluehn.com/ Ferrari 360 N-GT
2006 430 GT2 for sale in France
Ferrari 430 Challenge for sale in Italy
Info riccardo@superchallenge.net
__________________________________________________________________________________________
Ferrari F430 GT3 for sale in Germany
1987 Ferrari F40 LM "Pilot" at RM Sotheby's Auction in Paris 2019
Sensation, one of the most unique and valuable (Estimate not be announced yet but be aware with around 5 Mio. EUR) Ferrari F40 Chassis No. 74045 is coming to auction in Paris next year. The car will be the star of the Show and the most expensive F40 ever.
Hope to see it next year at our Challenge and GT Days at the Red Bull Ring
Ferrari FXX-K in Rosso Corsa with Nero roof, Delivered as new from Ferrari Spa season 2015 and used in Corsa Clienti program until 2017, Ferrari Spa has maintained the car fully since new and also had the car in storage on Maranello during this period, The car is in perfect condition and last service including new front brake discs late 2017, Rear discs 50 %, Millage of the car is 3500 km, One owner since new, The car is in our showroom and ready to be sold paid and delivered directly, Autoropa Ferrari of Sweden can also support in getting the buyer into Corsa Clienti driving program and getting the car updated to the new EVO version as per conditions from Ferrari Spa Corse Clienti, Please call or e-mail for more info, Price is netto ex VAT.