FOR SALE – Original Ferrari Van. Formerly the property of Garage Francorchamps, FIAT 900T Ferrari Service Van. Total original, never restored, handpainted (!)
_____________________________________________________________________
The 348 GT Competizione was a model designed specifically for the GT Championship on the 348 GTB platform. The car was radically lightened by eliminating all and any comfort-oriented features, including air-conditioning and mats. Its dry weight was 1180 kg complete with all of the safety equipment sported by the 348 Challenge version.
The transmission had a short 25/27 gear ratio and a racing clutch with reinforced discs. The brakes were derived from the F 40 Evoluzione with no ABS, but larger discs and calipers.Even the suspension was modified for racing with rigid rose joints, competition-ready dampers and springs. The standard car's 17" wheels were replaced by 18" ones with 239/635/18 tyres to the front and 265/645/18 to the rear. There was no great difference, however, in the engine, aside from the free flow exhaust.
RM Sotheby's Auction Paris – 1994 Ferrari 348 GT Michelotto Competizione
Ferrari 348 Challenge TB – Raced in the German Series, ex ART Car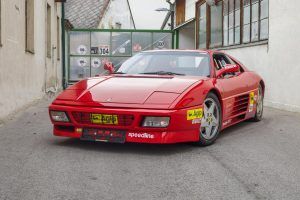 All details about the car an more pictures HERE at Classic Driver
Price EUR 119.000,–
Ferrari 348 TS – ex Rainer Klockenhoff, raced in the 1994 Ferrari Challenge Series. Street legal, German "Fahrzeugbrief", Servicebook, original invoice, 40.000 KM Service done, all documents, hugh documentation AND ex ART Car by UK Artist Dexter Brown.
Please ask for more details…
_____________________________________________________________________
1994 Ferrari 348 Challenge at Worldwide Auctioneers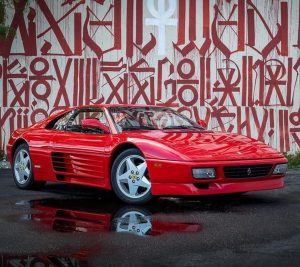 Estimate is around US $ 150.000
CHASSIS NO: ZFFRG35A5R0098818
All details and more informations about the auction HERE
• 1 of only 32 factory Challenge race cars produced by Ferrari
• One of the only cars that was never raced
• Only 20,772 miles from new
• Exceptional original condition
• Included are books, tools, records, window sticker and extra keys
3,405 cc DOHC V-8 engine, Bosch Motronic fuel injection, 312 HP at 7,200 RPM, five-speed manual transaxle, four-wheel anti-lock disc brakes, four-wheel double-wishbone suspension with coil springs and shock absorbers
The 348 Challenge cars were the first in the line of the Ferrari Challenge models which are still being produced to this day. As an important part of modern Ferrari history, genuine Challenge cars are now becoming increasingly sought-after. These original factory race cars were modified from the factory with special features that included factory roll bar mounts, racing belt eyelets behind the driver and passenger seats, lightweight fiberglass bumpers and modified suspension geometry. These special factory race cars were then shipped from Maranello to authorized Ferrari dealers for their final Challenge specification parts to be installed. These items included OMP roll cages, OMP racing seats, OMP five-point harnesses, 18" Speedline wheels, Challenge specification exhausts, Challenge springs and more. The Ferrari 348 and 355 Challenge cars have the distinction of being the last Ferrari factory racing cars produced that could be driven on the street and mark the end of an era. These last Challenge cars still retained a manual gearbox and do not have on-board computers, traction control and F1 gearboxes, making them fairly easy to repair and service. These cars are raw, pure and very fun to drive.
Ferrari produced just 32 factory Challenge cars for the American market. This exceptional example, Chassis Number 098818, was delivered new to Ferrari of Monterey, in Monterey, California. The owner's manual was signed by none other than Al Roberts, of Ferrari Challenge fame. What is most unusual and of interest to many Ferrari historians is the fact that the words "Challenge Package" and "Ferrari 348 TB Challenge" are written on its original factory window sticker. Equally rare is the fact that this 348 Challenge is potentially one of only three or four of these cars never converted for racing. It has never been raced and has spent its entire life as a road car in Southern California. This highly desirable Ferrari is in stunning original condition with original paint, original interior and with all its rare and identifiable Ferrari 348 Challenge specifications. Equally at home on the road or on the track, this is a rare chance to acquire one of the most significant Ferraris of the era.
_____________________________________________________________________
_____________________________________________________________________
_____________________________________________________________________
F355 Challenge Evoluzione in Concours Condition – Street Legal – Best of the Best
1998 Ferrari F355 Challenge Evolution ex Lais Power
Interested? More details and pictures HERE at ClassicDriver
Only in 1998 built, last EVO stage
First Registration: 07.04.1998
Chassis#: ZFFXR41B000111438
Racecar: yes and street legal
LHD
KMs: around 15.000 (original)
Colour outside: red (Rosso Corsa)
Colour inside: black
Seats : 2 (orig.)
1 of 72 orig. Ferrari F355 challenge factory race cars with race history, street legal ( first reg. 07.04.1998), unique !
Driver: Ulrich Plattenhardt (GER)
Servicebook complete
orig. technical passport DMSB (DeutscherMotorSportBund)
german registration certificate
deregistration certificate
1999 Challenge-Technical-Regulation-Book
Race history:
1998/1999 European Ferrari Challenge Championship (Driver: Ulrich Plattenhardt, GER)
Hockenheim, Spa, Zandvoort, Monza, Mugello , Nürburgring, Salzburgring
1999 World Final Vallelunga
2001/2003 OA Winner Scandinavian Challenge Series (Driver: Esa Schroderus, FIN)
Condition:
Full restauration outside and inside, top car, condition range 1, Concour Condition
Red primer, no stone chips
Only orig. leather from Maranello factory
Total original condition (like new or better)
Gearbox cooler and orig. fire-extinguishing system working
Orig. stickers as in the technical passport
Orig. signature from the Teamchef ( Walter Lais )
Engine & Gearbox overhauled, all seals and gaskets new !
Engine & Gearbox have matching numbers, no replacements
Suspension measurement done (Setup Hockenheim 1998)
Car was 1998 introduced in AMS magazin (magazin and press photos existing)
Historical photos and cups existing
Located in Austria
===>
1998 Ferrari F355 Challenge Evolution ex Lais Power
Interessiert? Bitte HIER anfragen
Nur in 1998 gebaut, letzte Ausbaustufe
Erstzulassung: 07.04.1998
Chassisnummer: ZFFXR41B000111438
Rennwagen: Ja
Lenkung: links
Kilometerstand: 14588 km (original)
Aussenfarbe: Rosso Corsa
Innenfarbe: schwarz
Zahl der Sitze: 2, original
1 von 72 orig. Werksrennwagen mit Renngeschichte und mit Straßenzulassung ( EZ 07.04.1998), einmalig !
Fahrer: Ulrich Plattenhardt (GER)
Servicemappe vollständig vorhanden
orig. Wagenpass DMSB (DeutscherMotorSportBund)
dt. Fahrzeugbrief vorhanden
Abmeldebescheinigung
1999 Challenge-Technical-Regulation-Book
Renngeschichte:
1998/1999 Ferrari Challenge Europameisterschaft (Fahrer: Ulrich Plattenhardt, GER)
Hockenheim, Spa, Zandvoort, Monza, Mugello , Nürburgring, Salzburgring
1999 World Final Vallelunga
2001/2003 OA Winner Scandinavian Challenge Series (Driver: Esa Schroderus, FIN)
Zustand:
Vollrestauration Innen und Außen, Spitzenfahrzeug Zustand 1 (new or better than new), Concour Condition
Grundierung rot, keine Steinschläge
Nur original Leder aus Maranello
Auto in völlig orig. Zustand (Neuzustand)
Getriebeölkühler, orig. Feuerlöschsystem funktionsfähig
Alle Aufkleber orig. wie im Wagenpass
Orig. Unterschrift Teamchef ( Walter Lais )
Motor/Getriebe überholt, alle Dichtungen neu !
Motor und Getriebe original, kein Tausch!
Fahrwerk neu vermessen (Setup Hockenheim 1998)
Fahrzeug wurde 1998 (Ausgabe 9/1998) in der AMS vorgestellt (Magazin und Pressefotos vorhanden)
Historische Fotos/Pokale vorhanden
Standort Österreich
_____________________________________________________________________
Artcurial Auction Paris – 1995 Ferrari F355 Challenge
Estimation 140,000 – 180,000 €
5. Februar 2021 – All details about the auction HERE at artcurial.com
French title, Chassis n° ZFFPA41B000101338
– Continuous history and same owner for last 21 years
– Genuine " competition-client "
– Just 18 700 km
– Ex Frederico Fritz d'Orey, Ex Maxime Bochet
This F355 Challenge, first registered on 2 March 1995, is one of 109 examples of the F129 AB version intended to compete in the championship set up by Ferrari in 1993 for the 348 Challenge. This French car was delivered new to the Ferrari dealer Daverat in Bayonne for Maxime Bochet, a driver from Pao, who used it to compete with good results in the Ferrari Challenge for three seasons.
The car was then sold in 1997 to Frederico " Fritz " d'Orey, the former Brazilian driver who made a name for himself in Formula Junior and also raced a Maserati 250 F in Formula 1 Grand Prix. It was during his ownership that the rare 1998 Season Kit was installed by Pozzi, improving the car's performance. Unfortunately, health problems prevented " Fritz " from enjoying the Ferrari and two years later, having completed just a few laps on the circuit, he sold the F355 Challenge to the current owner, when the mileage was 9 200 km. The current owner, a gentleman driver, put the car to good use and took part notably in a round of the GT FIA Championship at Magny Cours in 2000.
For the last few years, the car has only been driven on the track for club outings and training sessions. Superb in its " Rosso Corsa " livery, the current mileage is just 18 750 km and the car remains in its original Challenge F355 configuration. The cockpit is fitted with a sturdy roll-cage and two bucket seats with six-point OMP harnesses. Beneath the lightweight aluminium bonnet, the V8 remains capable of delivering nearly 400 bhp, at a screaming 8250 rpm. Lovingly looked after, our example has benefitted from regular maintenance carried out by the owner's mechanic. Very recently, the wheels have been repainted and the windscreen replaced. The extensive folder with the car includes copies of old registration documents, invoices, MOTs and technical manuals.
Our example comes with a large supply of spares, details of which are available on request, and these can be collected from the owner's home. After a major service that includes the fitting of new timing belts and four new tyres, our " Challenge ", complete with transparent history, will be ready to take to the track once more. It offers a unique opportunity to drive a powerful " competition client " either on the road or the track. In short, the best of both worlds.
_____________________________________________________________________
Ferrari F355 Challenge with street license. Perfect track day car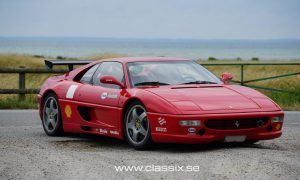 All details and more pictures HERE at Classics.se
Exterior: This Ferrari F355 Challenge has been repainted one time and today is very nice with the original sticker kit for the model. It has never been off the track or the road and no body panels have been replaced or repaired. There are various sets of wheels for the Ferrari 355 Challenge available.
Interior: Inside the Ferrari F355 Challenge, you find a few small changes from the original. Since this car also has a registration, you can also drive it on the street. A handbrake had to be fitted on the same place that you would find it on a regular F355.
Drive to and from the racetrack
Engine: The Ferrari F355 Challenge was built for the track. And this car has travelled 20,000km from new. All service work has been carried out by the owner and oil changes have been made after every race. Belts and other parts have been replaced several times over the years. Belts have limited lifetime on a Ferrari so next owner should be prepared to change before taking the car to the racetrack again. Clutch and gearbox are in perfect order.
History: There were a few small changes made to the Ferrari F355 Challenge to get this car registered for the street. But, all the original parts are with the car and it is very easy to make it all original again. During this time, it was possible to buy a kit to convert your F355 to a challenge car. However, this is an authentic F355 Challenge race car. There were 108 cars like this produced in total. The fact that this race car has a street registration makes it a perfect track day car. Just go and have fun on the track. Or if you live in a remote area like Sweden, you can take it out on the road any time.
_____________________________________________________________________
1995 Ferrari F355 Challenge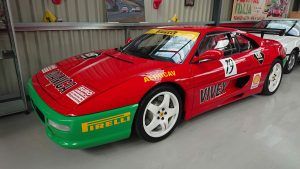 All details and more photos HERE
Ferrari F355 Challenge Factory built.
Delivered by Ferrari 06/07/1996
An outstanding collector quality Genuine Ferrari F355 challenge, 10k km's. One of only 108 factory built examples. Complete original car. Undergone beautiful painstaking refurbishment to near concours standard, with fully documented nut and bolt photographic record. Unique.
This car was driven by Jose Miguel Coletta and won the 1998 Ferrari Challenge Venezuela. This Championship winning car (No19) is the ultimate Challenge collectors piece.
This car has an outstanding history file with the cars racing records and pictures, restoration documentation, registration details and bills / receipts.
Probably the best F355 Challenge in existence.
_____________________________________________________________________
Ferrari F355 Challenge Rhd. Superb original car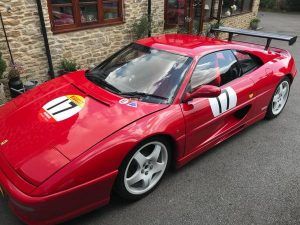 All details and more pictures about the car HERE
_____________________________________________________________________
A unique and special 1994 Ferrari F355 Challenge car with european street legal title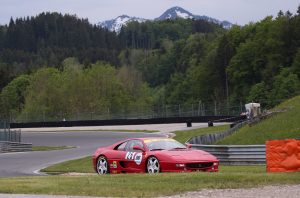 One of the FIRST – A unique and special 1994 Ferrari F355 Challenge car with european street legal title.
This 355 Challenge was delivered as a Berlinetta to a well known Ferrari Dealer. At that time there was a Challenge KIT available from Ferrari which was bought by the Dealer and mounted according to the Ferrari Cahllenge specifications into the car to race in his own Team. Thats the reason, why this car has a street legal titel. This was possible only in the year 1994, as from 1995/1996 on, Ferrari delivered purely factory made race cars without street legal titles.
The car is from 1994 so one of the first Challenge cars ever.
The car comes with a fresh service from a well known Ferrari Dealer.
This Ferrari has been restored making perhaps best condition 355 CH available anywhere.
Painted in the original Rosso Corsa.
New Paint, new livery graphics (removable if purchaser so desires), new leather dash & new leather trim around the rear window, new alcantara headliner, new Pirelli Trofeo tires, all the interior plastic switches were refinished so as to eliminate any of the so-called "sticky" parts. New Challenge set covers were obtained from Italy, including seat cushions, to restore the seats to new looking condition. A lot of Carbon parts in the interior. An engine-out service & detail was performed, seatbelts restored, new windshield (original windshield had a few pit marks), restored wheels, etc.
This F355CH marks the end of the Enzo Era. There will never be another Ferrari road and track race-car like this. A car you can drive to the track, race and drive home.
Asking price 150.000 EUR
Details: harsten@excite.com
_____________________________________________________________________
Ferrari F355 Challenge -Winner Car Ferrari Mondiali 1999
More details and pictures HERE
Asking is EUR 92.900,–
_____________________________________________________________________
Asking is EUR 98.000,–
_____________________________________________________________________
_____________________________________________________________________
2007 Ferrari F430
Ferrari F430 GT3
All details and more pictures HERE
Ferrari 430 GT3 SC18 – 1 of 25 cars produced. Bought from Kessel racing in 2014, Full body respray in 2018. Vehicle history below;
2006 – 2008 – Ferrari Challenge Europe
2009 – Italian GT Championship winner
2010 – GT open championship
2012 – Blancpain GT series
2014- 2020 – 5 GT races in South Africa and track days
_____________________________________________________________________
Ferrari F430 GT3 for sale in Germany
_____________________________________________________________________
Ferrari 488 GT3 with Aero Specification
All details and more pictures HERE

Chassis Number: F142MGT34218
This car has always been serviced by Michelotto for everything and run strictly to their recommended mileages. It's a great car. £40k has just been spent on it back at Michelotto for brand new exhaust manifolds and engine ancillaries etc.
The new gearbox in the car only has 4000kms on it and the engine was last (major) serviced at Michelotto at 15563kms total and has covered 8915km since then, so has minimum 6000kms left before next rebuild is required. It also has a £10k carbon clutch installed.
All of it's history is fully documented.
CONTACT MIKE WALTERS ON +44 7970 736644 OR EMAIL MIKE@RACECARSDIRECT.COM
_____________________________________________________________________
2001 Ferrari 550 Maranello GT1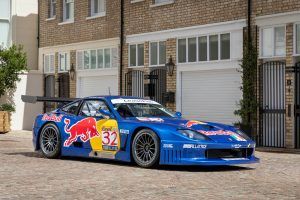 All details about the car www.fiskens.com
1 of 2 cars built by Italtecnica for Team Rafanelli for the 2001 FIA GT Championship and driven by Naspetti and 'Schiattarella with solid results including leading the Spa 24 Hours
Reworked by JAS Engineering and sponsored by Red Bull for the 2002 Season, driven by Riccitelli and the legendary Dieter Quester
Run by JMB Racing in 2003 and driven by Terrien, Derichebourg and Pescatori in FIA GT with overall wins in the Italian GT Series
Finally competed in 2004 with multiple wins, ending its period career with a win for Case and Toto Wolff
An important contemporary racing Ferrari eligible for the Global Endurance Racing Legends Series and the Masters Endurance Legend Series
The Ferrari 550 Maranello marked a return to the 'traditional' Ferrari values set by the iconic Daytona in the 1960s, albeit with 100bhp extra to spare. The forward positioned V12 could produce 485bhp at 7,000rpm, so unsurprisingly privateers were quick to develop them for track use.
This 550 was one of only 2 cars built by Italtecnica for Team Rafanelli for the 2001 FIA GT Championship. Run by the rambunctious Gabriele Rafanelli, the team of Naspetti and Schiattarella campaigned this car at 500km of Monza, Spa 24 Hours, 3 Hours of Brno and 3 hours of Silverstone, before it passed to JAS Motorsport who reworked it for the 2002 season with sponsorship from Red Bull.Drivers for the 2002 seasons included Riccitelli and the indomitable Dieter Quester.
Successes continued in 2003 with JMB racing, these included victories in the Italian GT Championships in both 2003 and 2004 with drivers including Terrien, Derichebourg, Pescatori and Toto Wolff. #11581 has been consistently campaigned ever since, and recently benefited from gentle restoration and cosmetic overhaul to return it to its eye-catching 2002 Red Bull livery. An exciting opportunity to acquire one of Ferrari's greatest modern creations, eligible for the Global Endurance Racing Legends Series and the Masters Endurance Legend Series.
_____________________________________________________________________
All details and more photos HERE at bingosports.com
1994 Ferrari F40 Competition
Chassis no. ZFFGX34X000099401
・Fully restored by Michelotto Automobili
・As good as new
・Last of line that only produced 20
・Registered in Japan, allowed to drive on the streets
"Rare F40 competition perfectly restored by Michelotto Automobili"
Racing activity with F40 started under the leadership of Charles Pozzi SA, a Ferrari importer in France, who is well-known in racing industry. Back then, Racing division of the Ferrari Factory was focused on Formula One and Michellotto in Padova, Italy was assigned to development of the machine because they already had an experience on creating 288GTO Evolizione. Of course, Ferrari provided a big support for development of power train.
F40 Racing was called F40LM, short name for "Le Man", and that was also decided based on the request by a French racing team. That was the name remind us of 250LM, 60's racing car.
F40LM is a racing car that diverted from road car and only 2 cars were produced, and its usage as a race car was limited to IMSA (International Motor Sports Association).
It did not take long for V.I.P. customers to start requesting to have F40 with the same style of F40LM when they saw F40LM in IMSA. Ferrari was pleased to accommodate the requests by such customers and placed an order of the said vehicle to Michelotto Automibili and that was how F40 Competizione was created.
The distinguished exterior from base model attracts people's attention. Fixed headlight, air duct on front cowl and movable rear spoiler are armed were installed to be competitive, yet remain gorgeous style. It was natural for F40 fans to tried to imitate the appearance of this vehicle.
As for an interior, F40 Competizione has more racing car-like taste than ever because digital meters and fire extinguisher are equipped and lining is done in very minimal amount.
Boost pressure was increased for the engine and it outputs more than 700hp that is 200hp more than the base model.
F40 Competizione was often called as F40LM because the design of exterior and interior, and the spec of power train are very similar to the ones that actually raced in IMSA.
This vehicle was sent to Michelotto Automobili of Padova to have very detailed restoration spending a full year from 2013 to 2014. Bodywork was done by Carrozzeria Nuova Rinascente (former Carrozzeria Cognolato) who had worked on the vehicle when it was first being produced. They did their work with scrupulous care throughout the vehicle even on the small details in order to recreate the quality of a brand new car. There is a restoration record with details of their work.
This is already registered in Japan, so it is ready for you to experience the legendary drive on the streets.
"The History of F40"
In 1986, the development of F40 was started and 288GTO Evoluzione, created in purpose of Group B competition, lay at the base of it. Insiders were calling the project as "Le Mans" and Michele Alboreto, a F1 driver, had joined the development team led by Nicola Materazzi.
A space structure with chrome molybdenum pipes holds the strong but light-weight cabin which constructed with many weightless parts i.e., Nomex, Carbon Kevlar, and Aluminum Honeycomb.
It was the traditional structure of Ferrari to have the cabin between suspension and power unit by combining with a sub-frame to accommodate them, but that tradition no longer seen after F40.
New weightless materials became possible to use because stress bearing to door panels were eliminated by the strong space structure. Carbon fiber is mainly used for the body panels and various composite materials are used on the chassis and the frame. A special glue was used to attach reinforcing materials onto the frames of pipe.
Under the supervision of Leonardo Fioravanti, a former chief designer of Pininfarina, Aldo Brovarone was in charge of exterior design. The most advanced aerodynamics was pursued with a large rear wing, a diffuser at the rear, and a flat floor. Blinkers and position lamps are covered by acryl and placed in the front of retractable headlights that are formed in thin rectangular shape.
NACA duct on the hood is for air conditioning and side intakes are for cooling intercooler and brakes. NACA duct is also on the upper fender as well and the left one is for oil-cooler for the engine; the right one is divided in two, the outer one is oil-cooler for the gear and the inner one is for the engine room.
Water-cooled V8 DOHC with 32 valves engine is named F120A. It is vertically mounted in the middle with twin IHI turbocharger and its displacement was increased from 2855cc of 288GTO to 2936; the turbo boost pressure was increased to 1.1 bar, maximum, from 0.8 bar. The fastest speed is announced to be 324km/h and maximum output of 478 PS and torque of 58.8km are recorded.
F40 was unveiled in Geneva Show in September of 1987 as a celebration of 40-year anniversary of Ferrari. The initial production volume was planned to be 400 cars, but 1351 cars were delivered because many of Ferraristas could not resist the beauty of F40 regardless of its price, 250,000 US dollars.
This vehicle has own extraordinary beauty of traditional body structure, different types of composite materials, and undeniable high performance. Many of F40 fans from all over the world are seeking for this machine, born in transition of 1970s' super car generation to today's super sports generation.
Photos by bingosports.com
_____________________________________________________________________
1989 Ferrari F40 JGTC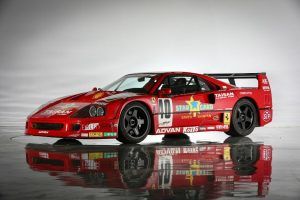 Details and more pictures HERE at Classic Driver
An exciting opportunity to acquire the Taisan Japanese GT race winning Ferrari F40.
Ready to use and still road registered this 1990's GT car is well documented in various Ferrari racing annuals
When the Japan GT Championship started in 1994, Team TAISAN surprised the racing community when they entered a Ferrari F40 to the series. Influenced by the car's success in the Italian GT Championship, Team TAISAN purchased a street-legal F40 (S/N: ZFFG134B000080780). Starting from a totally stock F40, the team made modifications and improvements during the season and for each race. The team also invited Oscar Larrauri, winner of the Italian GT Championship and former F1 driver to drive for Team TAISAN. In Round 5 at Mine Circuit, Oscar Larrauri was paired up with Tetsuya Ota and they sensationally captured the race win.
At each round of the race, the F40 was modified, troubleshooting whatever came up during the previous race. Although the F120A V8 unit which made 478ps/577nm of power and torque was untouched, they installed a one-off straight exhaust pipe for better response (the car is now installed with a silencer). Most of the modifications were done to its chassis and aerodynamics. The front clam shell was widened by 5mm on each side which the team considered as their original F40LM spec front cowl. The rear wing was also changed to a custom adjustable rear wing.
For the car's suspension, the team installed uniball mounts from the F40LM car and the wheels were changed to a set of light-weight magnesium wheels from OZ Racing to reduce unsprung weight. The front roll bar which came on the stock F40 was reinforced and other modifications were made as they raced in the series.
This car is listed as a JGTC spec race car, however no drastic changes were made and the car is still a street-legal Ferrari F40. The original engine which the team raced with has been replaced but the car remains road registered. Maintained in good original condition, the car runs well and would be an exciting road car or could also be used in historic racing such as the GT90's series or Endurance Legends series where it is sure to turn heads. The exterior remains unchanged from the car's racing years and is complete with its period livery.
One of the last true GT cars that can be driven to the track, raced and driven home again…
_____________________________________________________________________
1984 Ferrari 288 GTO Evoluzione
All details and more pictures HERE at bingosports.com
1984 Ferrari 288GTO Evoluzione
Chassis number: ZFFPX16X0G0070167
・The first Evoluzione ever to roll out of the factory
・Powered by the only F114CR unit in existence
・The only street-legal example of the five
・Perfectly restored at Michelotto
"#70167 perfectly restored at its birthplace"
The Ferrari 288GTO Evoluzione introduced here is given the chassis number 70167 and powered by the only CR unit in existence. What this means is that #70167 was tested on public roads and is the only street-legal individual of the five 288GTO Evoluziones ever produced.
Aside from the #70887 car that was converted from the stock 288GTO (#50253), this #70167 was practically the first genuine Evoluzione constructed from scratch and has established its own spot in the history of legendary Ferraris. Except for #70250 exhibited at Ferrari Museum Maranello, it is very likely that the other three (#70887, #70888 and #70889) have been obtained by private hands. We are also told that #70887 is powered by the CR2 unit while #70250, #70888 and #70889 carry the F114B that is a standard 288 GTO power plant.
This example was sold by Pierre Bardinon collection, renowned worldwide for its array of monumental Ferraris, to Art Sports before a well-known Japanese enthusiast acquired it. After we made the acquisition, it was then sent back to Michelotto factory, where the car received a meticulous, nut-and-bolt restoration in order to get it back to new-car-like condition. It was a perfectly-carried-out restoration no one else could have given but Michelotto, who is still capable of providing almost every part of the special vehicles (F40 siblings, 333SP, etc.) that it took part in giving birth to.
"The prancing horse at the point of complete turnaround"
The Ferrari F40 still commands respect from Ferrari enthusiasts all over the world while the 288GTO remains one of the most sought-after model with its low volume of production at 272 and historic GTO signature. The 288GTO, targeted at Group B competition, ultimately evolved into the F40, but before the transformation, there was the 288GTO Evoluzione that played an important role as a link between the two.
The Evoluzione was a development vehicle that was based upon the 288GTO and paved the way for F40. Though there are a number of street-legal and competition Ferraris that are historically significant, the 288GTO Evoluzione will certainly be remembered as one that served a short-lived, but vital duty between the 288GTO and F40, two of the greatest Ferraris of all-time.
Right before the 288GTO was born, Michelotto gave birth to the 308GT/M, a prototype race car that totally changed the destiny of the company for good. It was a Group 4 racer based on the 308GTB which helped put the name "Michelotto" on the map as a racing Ferrari specialist. As Ferrari factory team lost interest in races outside the F1 circus, Michelotto started getting more deeply involved in race activities on their behalf.
In preparation of prototype racers for Group B category, Michelotto came up with the 308GT/M in 1984 with the longitudinally-mounted F105A unit that was originally designed for the 308GTB Quattro Valvole.
On the other hand, Ferrari in the early 80's was in desperate need for a new high-performance model to replace the current lineup (including 308s and Berlinetta Boxers) that was falling behind the rivals in performance. The project led by Nicola Materazzi to develop a new hyper car would eventually result in the introduction of the 288GTO.
In 1984, the same year the Michelotto's 308GT/M debuted, the Ferrari 288GTO was premiered worldwide. While Ferrari ended up with 272 examples in two years of production even though the GTO lost its opportunity to compete in the Group B category, Ferrari decided to develop the GTO Evoluzione after it found out the F114B unit had a lot of room left for improvement in order to create a more extreme sibling.
Since there still was a slim possibility left for the GTO to be able to compete in races at the time of development in 1986, the Evo. was going to be a joint project between Ferrari factory and Michelotto, who was getting recognized as a semi-factory Ferrari team.
Materazzi, who was in charge of developing the GTO, was again named the chief engineer by Enzo Ferrari for the creation of the Evo. and came up with two variations of prototype power plants by exploiting the performance envelope of the F114B. The mild of the two was the F114CR which produced "modest" 530ps and eventually powered the F40 in a few years. On the other hand, the F114CR2(CK) was more drastically upgraded to produce 650ps and found its place in the engine compartment of the F40 Competizione.
The significance of the 288GTO and F40 in Ferrari history will never be surpassed. The GTO is the final and complete form of "Fioravanti Ferrari" that concluded the era of old-fashioned supercars starting in the 70's while the F40 kicked off the new age of super sports that still remains mainstream today. Widely recognized as the link between the two, this epoch-making 288GTO Evoluzione will certainly have its place in Ferrari history.
Ferrari ended up producing five examples of this highly sought-after prototype.
_____________________________________________________________________
2004 Maserati MC12 GT1