A passionate Ferrari owner and racing driver.
Photo and Story: Ferrari Magazine
Details here at the Parts/Marketplace http://www.fchgt.com/forum/viewforum.php?f=8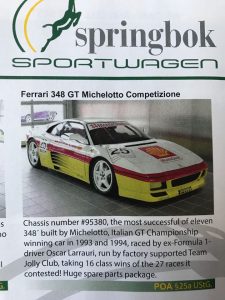 For sale in Germany. The most succesfull 348 GT, the ex Monte Shell Oscar Larrauri is for sale in Germany at Springbok.
Chassis 95380 is the only 348 GT Championship winner (Ital. GT Championship 1994) and is only 1 of 9 348 GTC produced bei Michelotto in Padua.
More Details about the sale HERE http://www.fchgt.com/cars-for-sale-3/ at the Cars for sale section or direct under http://www.springbok.de/index.php
In designing its 360 GTC, Ferrari had a lot of previous experience to build upon. After all, it had already made two race versions of the 360 Modena by the time the 360 GTC was introduced in 2003: the 360 Modena Challenge and the 360 GT.
Developed by Ferrari's Corse Clienti department, the final race version of the 360 featured a host of improvements over its predecessor, resulting in the car's homologation for the FIA GT Championships.
The full and very interesting Story https://www.supercartribe.com/ferrari-360-gtc-the-ultimate-in-track-ready-360-goodness/