2022 – It was a pleasure – All pictures from the Challenge and GT Days 2021 HERE

+++Challenge and GT Days goes RACING in 2022 – Cavallino Classic Cup 2022+++
All pictures from the Challenge and GT Days 2021 HERE
All pictures from the Challenge and GT Days 2020 HERE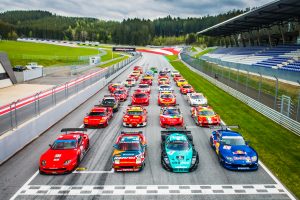 All pictures from the Challenge and GT Days 2019 HERE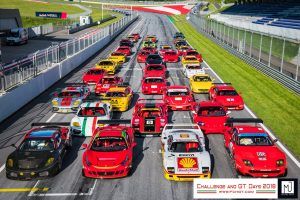 All pictures from the Challenge and GT Days 2018 HERE
Interested? Get in touch with us HERE or use the "Registration"
At the forum we have a special thread about the event HERE
Challenge and GT Days on Instergram. Here at https://www.instagram.com/challenge_and_gt_days/ you find the official Instergram page for our event, be part of it, like and share.
The Challenge and GT Days are a private and special event for all generations of Ferrari Challenge and all Ferrari GT cars with a special invitation for Maserati GT in Group 3, inkl. Cup, Trofeo and MC12 GT1 Race Cars. Special groups of all other Racing Ferraris can join us and share the time and track with us (see groups and eligible Ferraris).
The two days event will be again at the fantastic Red Bull Ring in Austria.
For the 2022 Event:
The Challenge and GT days are generally no RACE, so there will be no time keeping for group 1,2, 3 and 4, it is rather a "come together" for friends and family without any noise limits. This year 2022 we are extremely proud to be part oft he brand new "Cavallino Classic Cup" by Canossa Events
Five generartions of Ferrari Challenge cars, from the 348 to the fantastic 458 Evo are aligeble for the new racing series. The Red Bull Ring in June with our Challenge and GT Days will be the first meeting of this brand new series for Ferrari Challenge cars.
An engaging and challenging competition specifically designed for the most passionate Ferraristi, a fun-filled experience made of unrestrained emotions!
CALENDAR for 2022
June 7-8 – Red Bull Ring (Challenge and GT Days)
Sept. 30-October 1 – Varano
October 22-23 – Misano
For 2023 there are 5 races planed
Description for the Red Bull Ring Race
The racing format of the racetrack experience includes (can be changed any time):
2 rounds of 25min free practices/qualifying (first day 7th of June)
1 round of 20min qualifying (8th of June before lunch)
1 race of 40min 8th of June after lunch (20min race – 5min in the pits – driver change possible – 20min race)
The starting grid is based on the qualifying best time of the two sessions
Application: For registration, apply HERE
Race Documents: Sporting and Technical Regulations (Pending approval by Aci Sport) HERE
For more informations about the Cup, please contact Canossa Events at cavallinocup@canossa.com
General information about the Cavallino Classic Cup HERE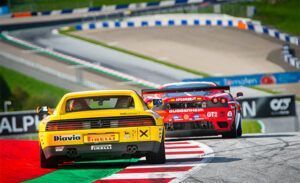 The number of participants is limited in all groups and therefore a selection procedure will take place based on the level of history, originality and condition of the car.
Only completely filled out registration forms (incl. entry fee and picture of the car) that reach our office in time will be accepted. The organizers reserve themselves the right of a selection procedure based on the level of originality and condition of the car. Participation confirmations are sent afterwards. NOTE: If a participant will not be accepted, the entry fee will be fully returned immediately. The registration HERE is still possible.
The entry fee for the Challenge and GT Days is:
EUR 3.200,– plus VAT for Group 2, 3 and 4
EUR 2.200,– plus VAT for Group 1
Cavallino Classic Cup HERE
and contains:
Participation for one driver (that can have more than one car in the same or in a different Group, -IMPORTANT-

depends on availability in the groups

)
Box is included (depends on availability)
Open access to the catering service (soft drinks, snacks and coffee at the lounge on the track) that will be full time open for the driver and its guest/co-driver
Welcome evening / get together 6. June
Lunch at the track for both days
Gala evening dinner by Scuderia GOHM on the 7. June
Special present
Hotels are NOT included
Each additional person:
Mechanic or guest is: EUR 390,– plus VAT and includes access to the track, catering service and the Gala evening (same as the driver) for the welcome evening 6st May and both days 7st and 8nd of June
EUR 280,– plus VAT without the Gala evening for both days 7st and 8nd June
EUR 140,– plus VAT for one day only (wihtout the Gala evening) – 7st or 8nd of June
The entry fee has to be paid to the following bank account: (payment reference: "Challenge and GT Days 2022")
Banc Account:
Jochen70 GmbH
Oberbank 3 Banken Gruppe
IBAN: AT13 1515 0005 0128 6009 BIC/SWIFT: OBKLAT2L
About us:
Jochen70 GmbH
Larochegasse 19 – 1130 Vienna -Austria
If you have any questions or need help, please email to office@fchgt.com or
Heinz Swoboda 0043 6991 328 328 0
Hospitality/Hotels: Our hotel partners (in nearly all categories) are at the Projekt Spielberg. Please choose your favourite hotel and book your rooms directly at HOTELS Spielberg – Code FERRARI or email reservierung@projekt-spielberg.com

Reservation Hotline:
Tel.: +43 3577 226011160
Email: reservierung@projekt-spielberg.com
On site will be a race tire service at your disposal by Georg Steffny
T: +43 660 733 788 6 georg.steffny@rs-center.eu
Also we will have again mechanics and engineers from Michelotto (at your disposal). We will help with the organisation and put your cars together in the pits as needed for service.
+++We are very excited to announce that also for 2022 the Endurance Racing Legends will joyn us at the Challenge and GT Days in group 4+++
Groups and eligible Ferraris*
Group 1 – All Road going Ferraris including the Ferrari Club Austria
Group 2 – 1993 to 2006: Ferrari Challenge/GT – Challenge 348/355/360/430 inkl. the Michelotto 348 GTC / LMs, the 360 Challenge and GTs N-GT, GT, GTC and 430 GT3/GT2 (on invitation for Maserati Ghibli Open Cup and Trofeo Race Cars). Also Ferrari 512 BB LM, F40 GT/LM/GTE, 333 SP, 550 GTC, 575 GTC and similar GTs incl. the and Maserati MC 12 GT1 (please ask for different and older Ferraris)
Group 3 – 2006 to 2021: Ferrari Challenge/GT – 430/458/488 Challenge inkl. 430 GT3/GT2, 458 GT3/GT2 and 488 Challenge/GT3/GT2
Group 4 – Endurance Racing Legends or similar racing cars from the 1990s to the 2000s. Mc Laren, Mercedes, Porsche etc. – WELCOME!
Group 5 – Cavallino Classic Cup RACE – Ferrari Challenge 348 to 458 Evo
* The final grouping will take place at the event and can be changed any time
Pre Day Monday 6. June:

14.00 – 19.00 Registration VIP Lounge
19.00 – 20.00 Meet the Drivers with drinks an small food at the Schönberghof with a fantastic view over the race track https://www.landhotel-schoenberghof.at/en/
*Timetable Day One Tuesday 7st June – Drivetime:
08.30-08.55 Drivers meeting (mandatory)
09.00 – 10.25 Group 1 and 2
10.30 – 11.30 Group 3 and 4
11.35 – 12.00 Group 5 – Cavallino Classic Cup Free Practice
12.00-13.00 Lunch break
13.00 –14.00 Group 1 and 2
14.05 – 14.55 Group 3 and 4
15.00 – 15.20 Group 1 and 2
15.25 – 15.45 Group 5 Cavallino Classic Cup Qualifying 1
15.50 – 17.20 Open pitlane for group 2, 3 and 4
17.25 -18.00 Foto session at the starting grid
*The schedule is not fixed and can be adapted any time
Gala evening by Scuderia GOHM with the charity auction for "Wings for Life" starts at 8pm at the "Red Bull Wing" direct at the track.
Information and Highlight Lots about the "Wings for Life" Charity Auction HERE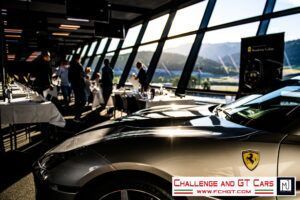 *Timetable Day Two Wednesday 8nd June – Drivetime:
09.00 – 9.25 Group 1
09.30 – 09.50 Group 5 Cavallino Classic Cup Qualifying 2
09.55 – 11.55 Open pitlane group 2, 3 and 4
12.00 – 13.00 Lunch break
13.00 – 13.25 Group 1
13.30 – 14.20 Group 2, 3 and 4
14.25 – 14.40 Cavallino Classic Cup Pre- Race Grid
14.40 – 15.25 Cavallino Classic Cup RACE
15.35 – 16.00 Group 1
*The schedule is not fixed and can be adapted any time
Interested? Get in touch with us HERE or use the Registration