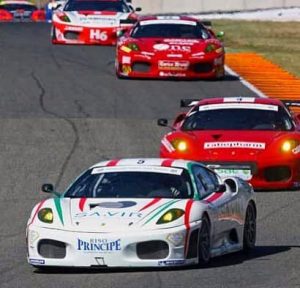 For sale soon – This fantastic ex-AF Corse Ferrari F430 GTC will soon be for sale by Jan B. Luehn
Details and direct contact to the seller HERE
Asking is EUR 275.500,–
(sorry no english discription) Totalt byggdes endast 108 stycken Ferrari F355 Challenge under åren 1995-1998. Av den anledningen tillhör sannolikt detta en av Ferraris mest intressanta semi-klassiker ur ett samlarperspektiv. Endast några av dessa Challenge bilar är registrerade och godkända att framföras på gatan. Det här är en av de bilar som är registrerad och godkänd. Vid inledningen av 1995 års säsong av Ferrari Challenge så var modellen F355 helt ny. Den här bilen ingick i det team av startande bilar, som Ferrari återförsäljaren i Stuttgart, Walter Lais (Lais Power) hade samlat inför seriestarten. Bilen försågs med den proffessionelle föraren Harald Brutschin vilket skulle visa sig vara ett lyckodrag. Det ledde till stor framgång och i slutet av säsongen säkrades en total seger i Ferrari Challenge Central Europe. Bilen såldes så småningom till England där den blev lackerad den klassiska röda färgen (Rosso Corsa). I England sägs den även ha fått motorn renoverad. Därifrån såldes den till Sverige. Här deltog den i Scandinavian Ferrari Challenge under åren 2002-2005. Under 2017-2018 genomgick bilen en omfattande renovering. Bilen som tidigare hade lackerats röd demonterades komplett vid renoveringen. Karossen blästrades och slipades ren. Därefter återställdes bilen med lackering i den vita originalfärgen "100 Bianco Avus". Genom omfattande research har även det grafiska utförandet återställts autentisk genom tillverkning av sponsorernas dekaler. Vid monteringen byttes även diverse slitagedelar såsom kulleder i länkarmar med mera. Motorn sågs över och fick ny kamrem samt ny vattenpump. Efter renovering har bilen endast provkörts vid ett antal evenemang och uppvisningar. Denna unika Ferrari som blev Cup Mästare 1995 har efter renovering och återställande till sitt ursprungliga utförande blivit signerad personligen av Walter Lais. Du finner mest komplett presentation på vonBraun.com inklusive 29 högupplösta foton.
Ferrari Classiche, Street legal, Platinum Winner Cavallino Classic 2018, Winner Ferrari Concours Finali Mondiali 2016, raced the US Challenge series and in first Paint!
Car is for sale, details HERE
Sold by Jan B. Luehn
Hope to see the car soon back on track, well bought!