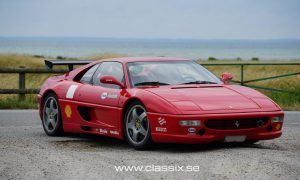 Ferrari F355 Challenge with street license. Perfect track day car
All details and more pictures HERE
Exterior: This Ferrari F355 Challenge has been repainted one time and today is very nice with the original sticker kit for the model. It has never been off the track or the road and no body panels have been replaced or repaired. There are various sets of wheels for the Ferrari 355 Challenge available.
Interior: Inside the Ferrari F355 Challenge, you find a few small changes from the original. Since this car also has a registration, you can also drive it on the street. A handbrake had to be fitted on the same place that you would find it on a regular F355.
Drive to and from the racetrack
Engine: The Ferrari F355 Challenge was built for the track. And this car has travelled 20,000km from new. All service work has been carried out by the owner and oil changes have been made after every race. Belts and other parts have been replaced several times over the years. Belts have limited lifetime on a Ferrari so next owner should be prepared to change before taking the car to the racetrack again. Clutch and gearbox are in perfect order.
History: There were a few small changes made to the Ferrari F355 Challenge to get this car registered for the street. But, all the original parts are with the car and it is very easy to make it all original again. During this time, it was possible to buy a kit to convert your F355 to a challenge car. However, this is an authentic F355 Challenge race car. There were 108 cars like this produced in total. The fact that this race car has a street registration makes it a perfect track day car. Just go and have fun on the track. Or if you live in a remote area like Sweden, you can take it out on the road any time.