With big steps we are going to the first Challenge and GT Days next month at the Red Bull Ring.
Finaly we will have 4 Groups of Ferraris:
Groups and eligible Ferraris*
Group 1 – 1993 to 2006: Ferrari Challenge/GT – 348/355/360/430 inkl. 360 N-GT, GT, GTC and 430 GT3/GT2
Group 2 – 2006 to 2018: Ferrari Challenge/GT – 430/458/488 inkl. 430 GT3/GT2, 458 GT3/GT2 and 488 GT3/GT2
Group 3 – Ferrari 512 BB LM, F40 GT/LM/GTE, 333 SP, 550 GTC, 575 GTC and similar GTs incl. the Michelotto 348 GTC / LMs
Group 4 – All road legal Ferraris
* The final grouping will take place at the event and can be changed any time
The full and NEW timetable is HERE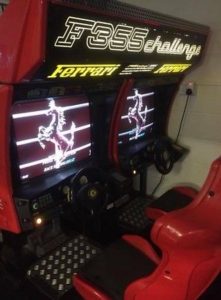 Direkt link to the eBay Auction HERE
Driven by Bruno Senna to two wins in the Ferrari Challenge at Silverstone in June 2007
Understood to be the only Ferrari ever raced by a member of the Senna family
Used sparingly for track day events and maintained FF Corse
Presented in original Senna livery
Direkt link to the auction https://rmsothebys.com/en/auctions/MC18/Monaco/lots/r0012-2007-ferrari-f430-challenge/642104
Introduced for the 2006 season, the F430 Challenge initially appeared alongside the older 360 model in Ferrari Challenge races, prior to becoming the sole variant eligible from 2007 until 2011. Retaining the potent 483-hp V-8 engine of the standard car, as well as its innovative paddle-shift operated six speed gearbox, weight saving of almost 300 kg ensured prodigious performance and spectacular racing.
Entered by Ferrari UK, chassis no. 146687 was driven by Bruno Senna – subsequent Hispania, Lotus-Renault and Williams F1 driver, and nephew of the great Ayrton – in its sole race outing in the Ferrari Challenge Trofeo Pirelli round at Silverstone in June 2007. Having qualified on pole for both races, resounding victories ensued and the motoring press took notice:
"Star driver of the weekend was, without doubt, Bruno Senna . . . On pole for both day's races, the 23-year-old from São Paolo simply disappeared into the distance on Saturday, and merely won comfortably the next day. In a highly competitive field of semi-professionals who really know how to get the best out of these identical cars, Senna, driving GP2 this year, was truly in another class. – Classic Driver, 12 June 2007
The car was never raced again – maintaining its 100 percent winning record – and was sold shortly thereafter to the consignor, in whose ownership it has been used only for occasional track days. It has been maintained throughout by Silverstone-based marque specialists FF Corse and has since been upgraded to "GT Cup" specification. This included the fitment of a front splitter and rear wing; however, all original components accompany the car and can be easily re-fitted, should the purchaser wish to return the car to its original specification.
Immaculately presented, the car is accompanied by two additional sets of wheels, steel brake disc assemblies and corresponding pads, air jack safety stands, a spare livery set, original Ferrari car cover and a comprehensive history file.
---