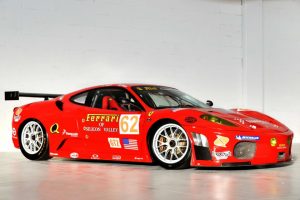 Direkt link to the auction HERE
Estimate is EUR 400-600.00,–
Competition car
E.U. customs cleared
Chassis n° F131 EVOGT #2456
Engine n° F136GT #037
– ALMS – GT2 2007 Champion (Mika Salo/Jaime Melo)
– Exceptional race history and transparent history
– Perfectly maintained, ready to race
The Ferrari 430 GTC was introduced in 2006 to replace the 360 GTC and to race in GT2 class in the FIA GT Championship, the American Le Mans Series and the Le Mans 24 Hours. The Maranello factory gave the preparation and technical management of the project to its usual partner, Michelotto. With 38 operational examples built, the F430 GTC dominated the GT class, winning, amongst others, the Constructors/Team and Drivers FIA GT titles (2006 and 2007), the Constructors and Drivers ALMS titles (2007), the Sebring 12 Hours (2007) and Le Mans 24 Hours (2008). Risi Competizione, founded and led by Guiseppe Risi, the Ferrari dealer from Houston, had a long-standing relationship with Ferrari and Michelotto. The team engaged the best drivers and had developed a reputation for winning (including Le Mans 24 Hours and Sebring 12 Hours) as well as for the excellence of its sporting and technical preparation.
The outstanding career of the Ferrari 430 GTC #2456 in GT2 began on 31 March 2007, at the ALMS race in St Petersburg, Florida, with a victory by Mika Salo and Jaime Melo. The rest of the 2007 season was a resounding success for the Finnish and Brazilian team, with six further wins at Long Beach, Houston, Road America, Mosport, Detroit and Laguna Seca. That year, driven by Salo/Melo, the F430 #2456 qualified on pole at Long Beach, Houston, Mid-Ohio, Road America, Mosport, Monterey and at Petit Le Mans. It was the winning car in the 2007 ALMS Constructors Championship awarded to Risi Competizione, with the Drivers title going to the cars' pairing of Salo and Melo.
In 2008, the team from Houston entered this Ferrari in the Le Mans 24 Hour race, sporting number 83 and the livery of Krohn Racing, Giuseppe Risi's usual partner. Driven by Tracy Krohn, Niclas Jönsson and Eric van de Poele, the car had a minor off and later retired. It participated in one last 24 Hour race in Dubai in 2009, prepared by Risi Competizione, with a team led by Adrian Newey, the technical director of the Red Bull Formula 1 team. He retired the car following a slight impact as it was leaving the pits 12 hours into the race. The car remained in Dubai in 2010 and Risi Competizione instructed AF Corse to completely overhaul the car, which included the sequential gearbox, replacing the clutch and the half shafts. Its engine #037, prepared to " step 2 " endurance configuration by Michelotto, was completely overhauled in January 2009. In 2010, this F430 GTC returned to the US, where it was acquired by its current owner, only the second after Risi Competizione. The car has subsequently been extremely well maintained, returned to its 2007 configuration and used only for private testing. The engine has turned for no more than 3 hours since its last service. The Ferrari will be sold with a spare set of wheels and new slick tyres, a set of routine maintenance tools and an impressive folder of the complete technical documentation from Michelotto covering every component and function of the car. This 2007 Ferrari 430 GTC #2456 is one of the last generation of competition cars with an electronic management system that remains affordable for gentleman driver enthusiasts.
This Ferrari, with an exceptional racing provenance, and never seriously damaged, is the most highly titled of the 430 GTC GT2s from 2006/2007. Here is a remarkable opportunity, for the pure performance it offers as well as a historical value for the place it holds in the long line of Ferrari champions.
More Details and Pictures: http://www.bonhams.com/auctions/24882/preview_lot/5137725/
1995 Ferrari F355 Challenge Coupé
The ex- Beppe Schenetti, 1995 Ferrari F355 Challenge Italy-winning
1995 Ferrari F355 Challenge Coupé
Chassis no. ZFFPA41B00101736
•One of 108 F355 Challenge models made
•Raced in the Ferrari Challenge Italy 1995-1999
•10 race wins and 14 additional podium places
•Road legal
•Registered in Germany
In 1995, Ferrari introduced the F355 Challenge for use specifically in the 'Ferrari Challenge', a one-make race series that had been created in 1993, initially for owners of the 348 Berlinetta. For the F355 Challenge, Ferrari made available a kit of racing parts (costing some $30,000), which would be supplied to authorised dealers for fitting to customers' standard road-going F355s. Alternatively, Challenge cars could be ordered fully finished from the factory.
The Challenge model's additions/modifications included a lightweight exhaust system; competition steering wheel; rear wing; competition clutch; Brembo 14″ brakes (F40 type); Speedline 18″ magnesium-alloy wheels; Pirelli racing slicks; solid suspension bushes and competition springs; brake cooling ducts at front and rear; upgraded radiator cooling fans; manual fan control; a roll cage; and all the usual safety equipment. No engine tuning was allowed (the engines were sealed) apart from that achieved by using the kit exhaust. In total, 108 F355 Challenge models were produced before the Ferrari Challenge series switched to the F360 in 2000.
Driven by Beppe Schenetti, this example raced in the Ferrari F355 Challenge Italy every season from 1995 to 1999 inclusive, winning the championship in '95. Schenetti won two of that season's four rounds and finished 2nd in the other two to clinch the title. By the time this car retired from active competition when the F355 Challenge came to an end at the 1999 season's conclusion, Schenetti had added a further eight wins and 12 podium places to the total, making it one of the most successful racing Ferraris of all time! Appropriately enough, he crowned this magnificent achievement with victory in the Challenge's final ever round: the World Final at Vallelunga in 1999 (full racing history available).
In 2017, this car underwent a mechanical restoration including an engine-out service (see invoices on tile totalling more than €13,000). It also comes with German Fahrzeugbrief, the original service book, a selection of in-period racing photographs, and the aforementioned extensive racing history. An invitation to the 2018 'Challenge and GT Days' at the Red Bull Ring Austria (worth €2,280) is included in the sale together with a 1:43 scale model.
fabulous sounding new (and, for the moment, private) event, the Challenge and GT Days will be celebrating the 25th anniversary of the Ferrari Challenge racing series this year — and where better to celebrate than at the Red Bull Ring in Austria?
Not just for the models that raced in the Challenge series, pre-1993 race cars, GT cars, and road-legal Ferraris are also welcome. And while the runs aren't technically timed or raced, the competition is expected to be still pretty lively — would you expect anything less from the tifosi?
Thanks to http://www.classicdriver.com for the great story…
1997 355 Ferrari Challenge Race Car with a recently completed overhaul. Recently installed new race clutch w/a major service completed. Complete race history available. An excellent example and a real collectible w/ Ferrari Challenge Race history. Please call for more detail.. $129,900 USD.
Direkt link to the sale HERE
1994 Ferrari 348 tb Challenge # 098791- Grigio Met. with red interior (the only 348CH in this color)
22,400 miles
This is #26 of 32 "Factory Challenge" Ferrari 348 tbs, and is in excellent mechanical condition, having had an engine-out major service completed in April, 2017 by renowned Ferrari specialist, Tim Stanford. Cosmetics are "race car excellent", with shiny, mostly original paint and straight body with even panel gaps (race livery, including sponsor decals, intact)- one of the benefits of having never sustained any major crash damage! Original OMP "348 Challenge" carbon-kevlar seats reupholstered in red fabric with proper embroidered logos.
Yes, although it is a bit of a "hair shirt", I've driven this car numerous times to/from track days at PBIR, Sebring and Homestead without any issues- other than the noise (from the unsilenced Challenge exhaust) and heat (no a/c, of course, although I do have the components stored if one were inclined to re-install)!
This was a race car since new, having competed in the Ferrari Challenge series in 1994 and 1995 on the Lake Forest Sportscars team, and retains its full Challenge race equipment (including Speedline magnesium Challenge wheels- 8"x18" front, 10"x18" rear), with the following being the only deviations from "as raced" spec:
(1) Upgraded Brembo big brake rotors and calipers
(2) Roll cage side impact bar removed (left in the garage, as I drive this car to/from the track and value ease of ingress/egress)
(3) Toyo R888 "R Compound" race tires substituted for the original Pirelli D3 slicks- again, I drive to/from the track, so full slicks are too risky)
(4) Window net removed (again, left in the garage, as I drive this car to/from the track)
In addition to the items noted above as being stored in the garage, the car also comes with the following spares:
(1) Odyssey race battery
(2) OMP fire bottle
(3) Set of beautiful Fikse wheels, excellent condition (8"x18" front, 10"x18" rear), mounted with Goodyear Eagle F1 tires (old, but with lots of tread)
Includes complete factory tool kit (even the tire inflator bottle is there), leather binder with all books except service booklet, red Ferrari car cover, and a 348 Parts Manual.
Car comes with complete ownership and service history from "Day 1" in a 3-ring binder (including the original window sticker and Warranty Card branded "CHALLENGE"), as well as some, but not all, race history. This is not my first Challenge car, but it has certainly been the best, both mechanically and cosmetically. Unfortunately, age and worsening orthopedic issues dictate that it go to someone who will be able to get more use from it, while preserving a piece of Ferrari Challenge history.
The car is located in Florida, and will be on-track on Thursday during the Cavallino Classic, and otherwise available that weekend if you'd like to see it. Thanks.
Price: $175,000 (Ferrari street car trades of comparable value considered- 3-pedal 430?).