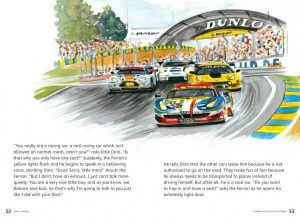 Visit DINO's Garage http://www.dinos-garage.com
The Ferrari – as quick as lightning
Dino's Garage is the story of a young boy who discovers his father Ferdinand's old cars in his garage. Each of these cars has its own story, which they pass on to Dino.
They talk of their adventures all over the world, of their experiences with their family, of previous owners, of races and excursions, of their feelings and dreams.
The stories are beautifully illustrated and full of Imagination.