Archive for the 'Allgemein' Category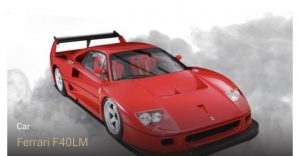 1991 Ferrari F40LM One of 17 built.
Genuine LM with extensive history, presented in perfect condition. Full restore and engine rebuild.
19. – 20TH OF FEBRUARY 2019 on Homestead-Miami Speedway. 50 Ferrari / 50 Porsche Racecars
Details and Info: http://www.fpc-miami.com
19. – 20TH OF FEBRUARY 2019 on Homestead-Miami Speedway. 50 Ferrari / 50 Porsche Racecars
Details and Info: http://www.fpc-miami.com
Painting by fantastic Yan Denes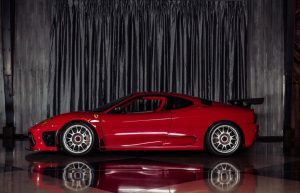 Chassis No. 2022
Engine No. 110
Gearbox No. 110
One of only 20 360 GTs built
Delivered new to Risi Competizione
Campaigned at the 2003 12 Hours of Sebring
The only Ferrari Classiche-certified 360 GT
Details and more Pictures About the car and the auction HERE
Throughout its history, Ferrari has enjoyed a strong record of success in GT racing through both factory entries and privateer racing teams. At the introduction of the 360 Modena in 1999, it was clear that this car was a quantum leap in performance over the outgoing F355. A number of teams expressed interest in taking the 360 Modena racing.
With factory support, three race cars were built for JMB Racing and the 2000 FIA GT season. When the team won the FIA N-GT driver's and team championship in 2001, Ferrari decided to offer a full competition-variant of the 360 Modena to racing teams. Produced in conjunction with Michelotto, the 360 GT was specifically engineered to compete in the FIA's N-GT and A.C.O. Championship series for the 2002 and 2003 seasons. Only 20 cars were produced, numbered in an even-number range from chassis no. 2002 to 2040.
Of those 20 cars, three were delivered to the Houston-based race team, Risi Competizione, and chassis no. 2022 was the second example they received. Arriving in early 2003, the car's first event was the 12 Hours of Sebring that year. Driven by Marino Franchetti and Kevin McGarrity, the car qualified 36th on the grid. Making it through 243 laps of the race, it was eventually sidelined after an accident. To complete repairs, the car was returned to Italy to be rebuilt.
Returning to North America in 2004, the 360 GT was sold to Remo Ferri of Ferrari of Ontario and subsequently Dan Heard of Baton Rouge, Louisiana, in 2005. In Heard's ownership, the car made two trips to the track in 2006 and 2007 but remained mostly in storage during this time. A major service that included new cam belts was completed in April 2012, and it was sold to Bruce Banyo in 2012. Banyo showed the car at the Cavallino Classic in 2014, winning a Silver award, and the car was sold to the current owner this year. In his care, chassis no. 2022 was shown at the Classiche Concorso d'Eleganza at Daytona Raceway as part of the Ferrari Finali Mondiali in 2016.
All Details and more Pictures HERE
Price is EUR 185.000,–
The Ferrari F355 Berlinetta was introduced at the 1994 Geneva Motor Show; the highly demanded successor to the now ageing 348. The 355 was not only a stark improvement stylistically on the 348, but it also saw a number of technical improvements, such as power steering and electronically controlled damping.
The F355 name referred to the new 3.5-litre V8 engine with 5 valves per cylinder; a unit capable of propelling the beautiful Pininfarina-styled body to 60mph in under 5 seconds and top speed in excess of 180 mph. Further, the motor is responsible for what remains today one of the finest engine notes ever to come from Maranello.
In 1995, Ferrari revealed a race-spec F355 Challenge model to be used specifically in the Ferrari Challenge race series. This involved a $30,000 factory-to-dealer upgrade kit. This upgrade package encompassed a large number of modifications to the standard F355 Berlinetta including a roll-cage, bucket seats, competition steering wheel, lightweight exhaust, rear wing, competition clutch, competition springs, and a lightened front bumper.
The F355 Challenge was also given new 18″ Speedline magnesium wheels that were wrapped in Pirelli racing slicks, whilst upgraded Brembo brakes, carried over directly from the F40 helped improve the car's stopping power.
Just 108 original F355 Challenge cars were produced in total, all fitted with the iconic 6-speed gated manual transmission. The car we are delighted to offer is an EU supplied example that raced within the Ferrari Challenge series for Team Ferrari Eberlein with the Gentleman driver Dieter Weigl. The car benefitted from a full engine out service at an official Ferrari Dealer in Austria with invoice in October 2015. The car is also fully street legal, making it a great opportunity to obtain a highly collectable Ferrari that can be enjoyed thoroughly on both the road and track!
Discription:
Ferrari FXX-K in Rosso Corsa with Nero roof, Delivered as new from Ferrari Spa season 2015 and used in Corsa Clienti program until 2017, Ferrari Spa has maintained the car fully since new and also had the car in storage on Maranello during this period, The car is in perfect condition and last service including new front brake discs late 2017, Rear discs 50 %, Millage of the car is 3500 km, One owner since new, The car is in our showroom and ready to be sold paid and delivered directly, Autoropa Ferrari of Sweden can also support in getting the buyer into Corsa Clienti driving program and getting the car updated to the new EVO version as per conditions from Ferrari Spa Corse Clienti, Please call or e-mail for more info, Price is netto ex VAT.
All Details and more Pictures https://www.classicdriver.com/de/car/ferrari/laferrari/2015/578712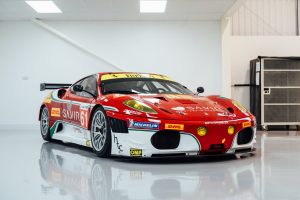 Car is close to sell, congrets to the new owner, you bought a big pice of Ferrari GT History, see you next year at the Challenge and GT Days
More Details About the car HERE