Ferrari 348 Challenge for sale
Paul Frame and the 1991 Ferrari 348 Challenge Chassis #9215
Details and Pictures here at https://www.classicdriver.com/de/car/ferrari/348/1991/561077
Ex Paul Newman 1997 Ferrari 355 FERRARI 355 CH CHALLENGE BERLINETTA on ebay
All details and more pics HERE on ebay
WARRANTY Last Road Legal Ferrari Road & Race Car!
"SIX MONTH WARRANTY. RESTORED. Paint, Engine out service and detail, New Leather for Dash, New "
A UNIQUE & HISTORICALLY SIGNIFICANT FERRARI with a SIX MONTH WARRANTY!
THE LAST ROAD & TRACK FERRARI THAT FERRARI WILL EVER BUILD.
This car marks the end of the the classic Ferraris that you could legally drive to the track, race and then drive home, like the Ferrari 250GTO, 250LM, 250 TDF, etc.
A unique and special 1997 Ferrari F355 Berlinetta 355CH / 355 Challenge car.
AutoExpress Magazine in the UK ranked the 355 as the second best Ferrari of all time in its Top Ten list, and this 355 CH is the most desirable of all the 355 Ferrari.
https://www.autoexpress.co.uk/best-cars/98636/top-10-best-ferraris-ever
The only known fully factory constructed 355 Challenge Car with a Ferrari dealer issued Title. The fact is post-1995 355CH were NOT sold with Titles, making this the only known, factory-built 355 racecar sold with a legitimate Title issued by an authorized Ferrari Dealer .
The Title is signed by a well-known Ferrari figure.
Most 355 Challenge Cars are 1995 models that were sold as regular 355s and then converted by their owners to 355 Challenge cars.
Unlike those cars, this 355 was fully constructed by the Factory as a Challenge car from its inception at the Ferrari factory in Maranello.
Believed to have been driven by Paul Newman at Lime Rock. Ferrari's Museum displayed the images of Newman and the F355.
RESTORED
This Ferrari has been restored making perhaps best condition 355 CH available anywhere.
Painted the proper Ferrari Gallo using the formula from the classic 275 GT.
New Paint, new livery graphics (removable if purchaser so desires), new leather dash & new leather trim around the rear window, new alcantara headliner, new Pirelli Trofeo tires, all the interior plastic switches were refinished so as to eliminate any of the so-called "sticky" parts. New Challenge set covers were obtained from Italy, including seat cushions, to restore the seats to new looking condition. An engine-out service & detail was performed, seatbelts restored, new windshield (original windshield had a few pit marks), restored wheels, etc.
This racecar has from the factory power mirrors, power windows, traditional analog gauges, premium leather dash and best of all, the classic Ferrari gated shifter.
The 355CH is the last Ferrari racecar that has an actual accelerator cable that connects the gas pedal to the 8 engine throttle bodies. After the 355, Ferrari's challenge racecars were no longer street drivable road and track cars and they were all paddle shift cars with drive by wire.
Ferrari has just announced its future cars will all be hybrids….and then likely electric. The end of the era is here and this car stands at a truly unique point in Ferrari's history—the true Enzo Ferrari history.
That's right, in Ferrari's glorious history, this is THE VERY LAST Ferrari racecar with the classic Ferrari Gated Manual Shifter, just as Enzo Ferrari had always known when he created Ferrari.
The last Ferrari road and track car built by Ferrari and sold with a street title…..and with a manual gearbox.
This F355CH marks the end of the Enzo Era. There will never be another Ferrari road and track race-car like this ever produced by Ferrari again: A car you can drive to the track, race and drive home, with its power windows and mirrors and an exhaust that sounds better than a Tubi and is completely streetable while making the most beautiful music.
Additional information/history;
This special Ferrari has a title signed by the owner two factory authorized Ferrari dealerships and the first Ferrari body repair shop in the United States as well as the founder and owner of a championship winning Ferrari Challenge team.
The vast majority of 355 Challenge Cars are 1995 models. These were ordinary 355s converted to Challenge cars by owners who would purchase a kit from dealer that the dealer would then install. They were NOT factory-built racecars.
All 1996 and later 355 Challenge cars were, by order of Ferrari, to be sold MSO (Manufacturer's Statement of Origin). None were to be sold with Title and thus none were supposed to be usable on the street—except this one!
After 1995 and starting in 1996, Ferrari would no longer be allowed to sell OBD I Ferraris in the United States. Instead every car from 1996 forward would have to be OBD II. However, the Ferrari 355 Challenge Race Series required cars to have OBD I management systems so that all the cars could be essentially the same in the Challenge series. It would have been illegal for Ferrari to sell OBD I 355s from 1996 to 1999, yet more 355 Challenge cars were required for the race series. Thus, the inhouse built 355 Challenge was born as a way to get around the OBD II requirements while still producing more 355 Challenge racecars. Ferrari would build the Challenge racecars in-house. Ferrari would install the OBD I drivetrain and management systems including the OBD I wiring harness etc., in cars built after 1995. This 355 CH is the only known 355CH sold with a road legal title from a Ferrari dealer.
LIMITED WARRANTY: SIX MONTHS OR SIX THOUSAND MILES, WHATEVER COMES FIRST. Wear and tear items, such as brakes, clutch, tires not included. Warranty covers street usage of vehicle not racing of the vehicle. Warranty covers components that fail where failure is not due to driver error.
_____________________________________________________________________
_____________________________________________________________________
Ferrari 355 Challenge – Ferrari Official Certification
Details and more pictures HERE
1995 Ferrari F355 Challenge – street legal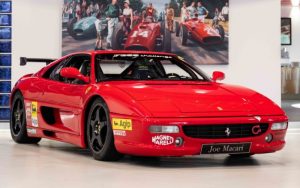 Details and more Pictures HERE
Ferrari F430 Challenge for sale by DK Engineering
Direct link to DK Engineering
Ferrari created the F430 Challenge, a track only variant of the hugely popular F430, to boost its on circuit performance by extensive weight reduction and suspension changes. Just like in previous Ferrari Challenge cars the engine has largely remained the same as on the production road cars. The F430 challenge does however, breathe a little easier by means of a racing exhaust system. Some engine management tweaks and fine blueprinting increase the power too. The body styling has received very few styling changes with just the Formula One inspired single centre lock BBS wheels hiding enormous carbon brakes.
This 2008 factory built Challenge car has had just 3 owners from new. The first two owners used the car for track days only however with the third owner the car was entered in a select few rounds of the Ferrari Pirelli Open where it was most successful and scored a couple of class wins. Following this and with just 9,000 kms covered DK sold the car in 2016 to the current owner as part of his stable of Ferrari race cars.
In the current custodians ownership the car has been professionally stored and maintained by DK Engineering with a no expense spared mantra as evidenced by invoices on file totalling in excess of £25,000 in the current ownership. Used sparingly for a handful of track days, it participated in two rounds of the up and coming, AMOC GT Challenge series in 2017. At both rounds the car scored outright wins, and latterly at Silverstone, a "perfect weekend" of Pole Position, Overall Race Win and fastest lap.
The car has always been maintained with a cavalier regard for expense and as such is in superb and "on the button" condition. It has had the necessary upgrades and is fitted with the essential upgrade FF Corse Aero-Kit; it is accompanied by a comprehensive spares package including 8 spare wheels and tyres. The car is instantly eligible and competitive for the new international Ferrari Club Racing Series, the AMOC GT Challenge and for the Global Endurance legends series which is fast gathering pace, a trip to the Red Bull Ring for the Ferrari only "Challenge and GT days" event would also be an opportunity for the new owner.
______________________________________________________________________
Ferrari 430 Challenge for sale in Italy
Info riccardo@superchallenge.net
______________________________________________________________________
Ferrari F430 GT3 for sale in Germany
___________________________________________________________________
488 Challenge – Brand New – Zero Mileage – Passenger Seat Fitted
All details and more pics HERE
The 488 Challenge has multiple aerodynamic changes over a standard car. Whereas in previous years a 430 Challenge may have only be differentiated by its wheels externally, the 488 has among other changes, a different front bumper, bonnet, side vents and most noticeable, a large rear spoiler
The long standing successes of the Ferrari Challenge Series have helped see the continued development of both road and race going variants since. With its origins in 1993, the series sought to offer Ferrari customers an introduction to racing through a single-marque race series. Starting with the 348, development has seen interations of the 360, 430, 458 and now a Challenge offering of their latest and greatest road car yet, the 488 GTB.
The 488 Challenge is the first turbocharged model to compete in the Ferrari Challenge series, and as a result, also the most powerful Challenge car to date. Closely related to the road going variant, the 488 Challenge boasts the same 670hp 3.9litre V8 as the road car. Ferrari have however, made some changes to the engine mapping as well as swapping in shorter ratios to the twin-clutch gearbox.
Ferrari says that with these changes in place, the Challenge car can go from a standstill to maximum revs in fourth gear in just 6.0 seconds. Ferrari notably re-calibrated the 488's electronic driver aids, adding a two-phase control system for the traction control. With the Ferrari Challenge designed to be an approachable start to motorsport, the system offers one knob on the steering wheel which allows the driver to set when the system will intervene, and a second regulates the aggressiveness of intervention.
Ferrari also gave the 488 Challenge a more aggressive aerodynamics package inspired by the 488 GTE, a race car built with professionals in mind. The 488 Challenge has multiple aerodynamic changes over a standard car. Whereas in previous years a 430 Challenge may have only be differentiated by its wheels externally, the 488 has among other changes, a different front bumper, bonnet, side vents and most noticeable, a large rear spoiler. The 488 Challenge is quoted as lapping the Fiorano test track with a recorded time of 1 minute 15.5 seconds.
This example was delivered new to the UK in 2018 and has never been raced or turned a wheel in anger. It is currently wrapped in a Tricolore livery, and has had the extremely rare optional extra passenger seat fitted. Perfect for track day use or indeed a full blown assault on the Ferrari challenge.
_____________________________________________________________________
2016 Ferrari F488GT3 Kaspersky
2001 Ferrari 550 GT1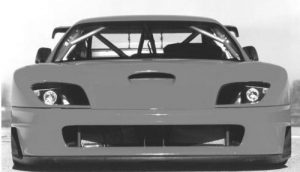 A fully original 550 GT1 comin soon for sale at Jan B. Luehn
Details: https://www.janluehn.com
_____________________________________________________________________
RM Sothebys London Sale – 2006 Maserati MC12 GT1
For sale at RM Sothebys Auction London. Details and more pictures HERE