One of only 4 Group B-specification 308 GTB's built by Michelotto, and one of only 3 to feature the ultimate 4-valve Ferrari engine, Michelotto Build Number 13
_____________________________________________________________________
1994 Ferrari 348 Challenge at Worldwide Auctioneers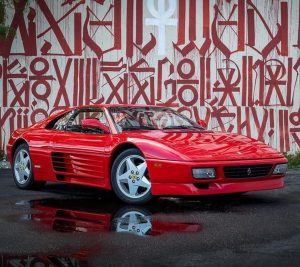 Estimate is around US $ 150.000
CHASSIS NO: ZFFRG35A5R0098818
All details and more informations about the auction HERE
• 1 of only 32 factory Challenge race cars produced by Ferrari
• One of the only cars that was never raced
• Only 20,772 miles from new
• Exceptional original condition
• Included are books, tools, records, window sticker and extra keys
3,405 cc DOHC V-8 engine, Bosch Motronic fuel injection, 312 HP at 7,200 RPM, five-speed manual transaxle, four-wheel anti-lock disc brakes, four-wheel double-wishbone suspension with coil springs and shock absorbers
The 348 Challenge cars were the first in the line of the Ferrari Challenge models which are still being produced to this day. As an important part of modern Ferrari history, genuine Challenge cars are now becoming increasingly sought-after. These original factory race cars were modified from the factory with special features that included factory roll bar mounts, racing belt eyelets behind the driver and passenger seats, lightweight fiberglass bumpers and modified suspension geometry. These special factory race cars were then shipped from Maranello to authorized Ferrari dealers for their final Challenge specification parts to be installed. These items included OMP roll cages, OMP racing seats, OMP five-point harnesses, 18" Speedline wheels, Challenge specification exhausts, Challenge springs and more. The Ferrari 348 and 355 Challenge cars have the distinction of being the last Ferrari factory racing cars produced that could be driven on the street and mark the end of an era. These last Challenge cars still retained a manual gearbox and do not have on-board computers, traction control and F1 gearboxes, making them fairly easy to repair and service. These cars are raw, pure and very fun to drive.
Ferrari produced just 32 factory Challenge cars for the American market. This exceptional example, Chassis Number 098818, was delivered new to Ferrari of Monterey, in Monterey, California. The owner's manual was signed by none other than Al Roberts, of Ferrari Challenge fame. What is most unusual and of interest to many Ferrari historians is the fact that the words "Challenge Package" and "Ferrari 348 TB Challenge" are written on its original factory window sticker. Equally rare is the fact that this 348 Challenge is potentially one of only three or four of these cars never converted for racing. It has never been raced and has spent its entire life as a road car in Southern California. This highly desirable Ferrari is in stunning original condition with original paint, original interior and with all its rare and identifiable Ferrari 348 Challenge specifications. Equally at home on the road or on the track, this is a rare chance to acquire one of the most significant Ferraris of the era.
_____________________________________________________________________
1996 Ferrari F355 Challenge
All details HERE
Mileage : 18.350 Kms
First registration date : 1996
Color : Red
Interior color : Black
Power (kw) : 280
Power (cv) : 380
Cubic capacity : 3496cc
Number of cylinders : 8
Fuel type : Petrol
Gearbox : Manual
Layout : RWD
Number of seats : 2
More info coming soon..
_____________________________________________________________________
_____________________________________________________________________
A unique and special 1994 Ferrari F355 Challenge car with european street legal title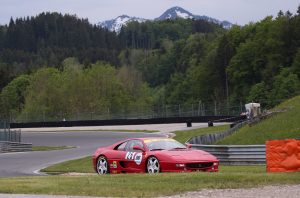 One of the FIRST – A unique and special 1994 Ferrari F355 Challenge car with european street legal title.
This 355 Challenge was delivered as a Berlinetta to a well known Ferrari Dealer. At that time there was a Challenge KIT available from Ferrari which was bought by the Dealer and mounted according to the Ferrari Cahllenge specifications into the car to race in his own Team. Thats the reason, why this car has a street legal titel. This was possible only in the year 1994, as from 1995/1996 on, Ferrari delivered purely factory made race cars without street legal titles.
The car is from 1994 so one of the first Challenge cars ever.
The car comes with a fresh service from a well known Ferrari Dealer.
This Ferrari has been restored making perhaps best condition 355 CH available anywhere.
Painted in the original Rosso Corsa.
New Paint, new livery graphics (removable if purchaser so desires), new leather dash & new leather trim around the rear window, new alcantara headliner, new Pirelli Trofeo tires, all the interior plastic switches were refinished so as to eliminate any of the so-called "sticky" parts. New Challenge set covers were obtained from Italy, including seat cushions, to restore the seats to new looking condition. A lot of Carbon parts in the interior. An engine-out service & detail was performed, seatbelts restored, new windshield (original windshield had a few pit marks), restored wheels, etc.
This F355CH marks the end of the Enzo Era. There will never be another Ferrari road and track race-car like this. A car you can drive to the track, race and drive home.
Asking price 150.000 EUR
Details: harsten@excite.com
_____________________________________________________________________
Ferrari 355 Challenge – Ferrari Official Certification
Details and more pictures HERE
1995 Ferrari F355 Challenge – street legal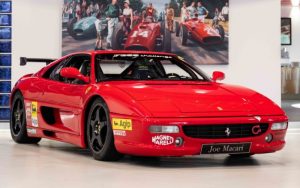 Details and more Pictures HERE
2006 Ferrari F430 Challenge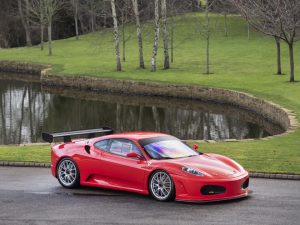 All details and more pictures HERE
2007 Ferrari F430
Ferrari F430 GT3 for sale in Germany
2001 Ferrari 550 GT1
All details about the car HERE
1 of 2 cars built by Italtecnica for Team Rafanelli for the 2001 FIA GT Championship and driven by Naspetti and 'Schiattarella with solid results including leading the Spa 24 Hours
Reworked by JAS Engineering and sponsored by Red Bull for the 2002 Season, driven by Riccitelli and the legendary Dieter Quester
Run by JMB Racing in 2003 and driven by Terrien, Derichebourg and Pescatori in FIA GT with overall wins in the Italian GT Series
Finally competed in 2004 with multiple wins, ending its period career with a win for Case and Toto Wolff
An important contemporary racing Ferrari eligible for the Global Endurance Racing Legends Series and the Masters Endurance Legend Series
The Ferrari 550 Maranello marked a return to the 'traditional' Ferrari values set by the iconic Daytona in the 1960s, albeit with 100bhp extra to spare. The forward positioned V12 could produce 485bhp at 7,000rpm, so unsurprisingly privateers were quick to develop them for track use.
This 550 was one of only 2 cars built by Italtecnica for Team Rafanelli for the 2001 FIA GT Championship. Run by the rambunctious Gabriele Rafanelli, the team of Naspetti and Schiattarella campaigned this car at 500km of Monza, Spa 24 Hours, 3 Hours of Brno and 3 hours of Silverstone, before it passed to JAS Motorsport who reworked it for the 2002 season with sponsorship from Red Bull.Drivers for the 2002 seasons included Riccitelli and the indomitable Dieter Quester.
Successes continued in 2003 with JMB racing, these included victories in the Italian GT Championships in both 2003 and 2004 with drivers including Terrien, Derichebourg, Pescatori and Toto Wolff. #11581 has been consistently campaigned ever since, and recently benefited from gentle restoration and cosmetic overhaul to return it to its eye-catching 2002 Red Bull livery. An exciting opportunity to acquire one of Ferrari's greatest modern creations, eligible for the Global Endurance Racing Legends Series and the Masters Endurance Legend Series.
_____________________________________________________________________
2001 Ferrari 550 GTS Prodrive at RM Sothebys Auction in Monaco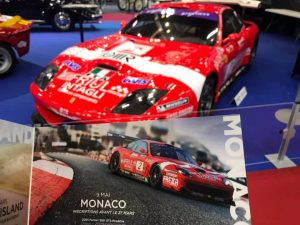 Direkt link to the Auction HERE

2004 FIA GT Championship Spa 24 Hours, Spa-Francorchamps, Belgium. 31st August 2004.
2004 Maserati MC12 GT1