For sale – 2001 Ferrari 360 Challenge
Beschreibung
Dieses Auto nahm von 2001 bis 2005 an der Ferrari Challenge teil
Zusätzliche Informationen
For sale – 2002 Ferrari 360 N-GT ex JMB FIA GT 24H SPA / 24H Daytona / 12H Sebring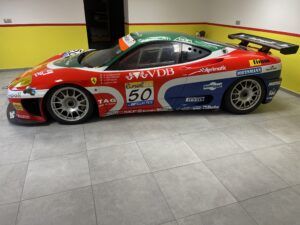 For sale is one of the best 360 GT Ferraris. Fantastic history and condition. Highly original and very well documented, a real pice of Ferrari and Michelotto history.
Highly eligible for the office Ferrari program "Club Competizione GT", the "Challenge and GT Days", "Masters Racing Series" and for sure for the "Global Endurance Racing Series" including the Le Mans Classic Race!
Ferrari 2002 360 N-GT s/n 007M one of 17 Michelotto cars. JMB raced in 2002 FIA GT, second overall in championship, raced 2003 ALMS. Restored and in 2002 livery.
All details and more pictures HERE at ClassicDriver
Price on asking – Interested, please ask for more HERE
Restored, ready to go
original FIA GT documents from every race included Matching numbers
Original race suit 2002 Garbagnati
Extra set of wheels
The 360 Modena, the road-going successor to the F355, was unveiled in late 1998. The new car´s revolutionary advancements were more than just skin deep, however. An all-new aluminium space-frame created through a partnership with Alcoa resulted in a 10 percent reduction in weight and a nearly 50 percent gain in structural rigidity. This new stiffness dramatically sharpened the mid-engined Ferrari´s handling. Curvaceous Pininfarina-penned styling, a dramatic departure from the designs associated with Ferrari since the late 1970s, helped usher the modern Ferrari into the 21st century.
The Challenge Series was born of a need for Ferrari to launch a racing series for its competition-minded clients. Essentially factory-stock cars, the Challenge Series 348, F355 and then 360s were stripped of most of their unnecessary weight and given a high-performance suspension.
The team JMB was asked by Michelotto at the end of the 1999 season to race and develop together with Michelotto, a GT on the basis of the F360 Modena Challenge and homologate for the FIA-N-GT series during the season 2000. It was then that Team JMB Giesse with Michelotto took a 360 Challenge and modified it to the FIA´s newly created GT regulations to compete against the Porsche GT2 in 2000. Michelotto further developed the 360 GTs into what is considered the ultimate specification and fastest 360, known as the 360 N-GT. JMB had been one of the first Teams to order several factory built up 360 Modena N-GT's for the new FIA GT Championship in 2001. The car proved so successful that the Ferrari factory commissioned Michelotto to create a works` 360 GT, which would be sold through Ferrari´s Corse Clienti department as 360GTC.
In the N-GT specification, Michelotto boosted the 360´s 3.6-liter V8 to 445 horsepower, an impressively high figure even with the required 30.8mm air restrictors. It is reported that the maximum power without air restrictors could have been brought up to 540 bhp which makes it even today to a serious weapon on each track test day or fun racing.
To match the power upgrade, a sequential gearbox was fitted to the N-GTs, giving the car blisteringly quick gear changes. Michelotto tightened the suspension with stiffer shocks and springs, added an adjustable anti-roll bar and removed all non-essential weight through the use of thinner body panels, carbon fiber body panels, and polycarbonate windows and windshield. The interior consists of a racing cockpit that has been stripped of any unnecessary weight, features carbon fiber seats, and utilizes a roll cage for additional stiffness and safety . With wider fenders and spoilers front and rear, the 360 N-GT was approximately 200 pounds lighter than the 360 Challenge.
The 360 Challenge, chassis 118459, was ordered and delivered to Michelotto who was commissioned by the Ferrari works to carry out the development and indeed carry out most of the workwas modified by Michelotto to N-GT specification to compete in the FIA GT 2002 championship, and was campaigned by former during the 2002 championship in Europe and the ALMS 2003 season in the USA. The car´s racing career ended in 2003.
The Ferrari 360 N-GT presented here carries Chassis No. # 118459 and has received by Michelotto the number 007M of just 17 examples modified by Michelotto in 2001 for the upcoming season. These were numbered 000M to 016M, and JMB owned #'s 000M, 001M, 002M the 2001 FIA GT champions, 003M, this car 007M, and 008M.
This car on offer is the restored JMB #50 car.
Finished in Colours Green, White and Red, and some Blue, this particular car benefits from a fully race-outfitted interior, including a full roll cage, racing seat, and harness. The car has a race exhaust system, air-jacks front and rear, racing fuel fillers, BBS racing wheels, and front and rear tow hooks. The car is presented in its 2002 #50 JMB Giesse Racing livery.
Well-suited for the enthusiast seeking to explore the tremendous performance on offer in a modern Ferrari, this 360 Modena N-GT offers the unique opportunity to acquire a track-ready limited production race FIA GT race car born from the collaboration between Ferrari and the respected Michelotto company. Having had a serious race pedigree in 2002 and 2003 owned and driven by the 2001 FIA GT Champion Pescatori and the JMB Giesse Racing Team, the car was indeed second overall in the 2002 FIA GT championship.
Its engine retains the FIA GT and ALMS spec intake air restrictors (leaving latitude for the truly power-obsessed to find new thrills.) It is reported that the maximum power without air restrictors could have been brought up to 540 bhp which makes it even today to a serious weapon on each track test day or fun racing.
FIA GT Championship 2002
2002/apr/21 8th OA/1st N-GT Magny Cours Pescatori/Montermini (r#50)
2002/may/4 9th OA/1st N-GT Silverstone Pescatori/Montermini (r#50)
2002/may/19 8th OA/2nd GT Brno Pescatori/Montermini (r#50)
2002/jun/2 10th OA/2nd N-GT Jarama Pescatori/Montermini (r#50)
2002/jun/30 13th OA/4th N-GT Anderstorp Pescatori/Montermini (r#50)
2002/jul/17 15th OA/7th N-GT Oschersleben Pescatori/Montermini (r#50)
2002/aug/4 4th OA/2nd N-GT 24h Spa Pescatori/Montermini/
Garbagnati/Bertolini (r#50)
2002 2nd in FIA GT Championship, 2002 SPA 4th OA, 2nd GT Class
ALMS 2003
2003/jan/5 21st Daytona Test Earle/Atapattu/Farfus/Pescatori (r#20)
2003/feb/2 14th OA/7th GT 24h Daytona Collard/Papis/Farfus/Garbagnati (r#20)
2003/mar/1 no show Homestead xxx (r#20)
2003/mar/15 14th OA / 3rd GT 12h Sebring Grégoire/Pescatori/Babini (r#28)
2003/jun/29 22th OA/8th N-GT Road Atalnta Grégoire/Salazar (r#28)
2003/aug/3 25th OA/28th GT Trois-Rivieres Pescatori/Grégoire/Salazar (r#28)
2003/aug/17 19th OA/10th GT Mosport Alexander/Grégoire (r#28)
2003/aug/24 35th OA/17th GT Road America Alexander/Grégoire/Salazar (r#28)
2003/sep/7 18th OA/6th GT Laguna Seca Alexander/Grégoire/Salazar (r#28)
2003/sep/27 14th OA/5th GT Miami Alexander/Grégoire/Salazar (r#28)
_____________________________________________________________________
For Sale – 1999 Ferrari 360 N-GT
Ferrari 360 N-GT Details an more pictures HERE at ClassicDriver
Ferrari 360 N-GT s/n 119339, a Euro model 360 Challenge prepared in early 2000 to N-GT specifications to campaign in the European FIA GTR championship race series.
This car raced on 16th April, 2000 at the FIA GT Championship, round # 3 at Monza, for 500 kms, with race # 61, and driven by ex-F1 driver Ivan Capelli and Erich Prinroth, finishing 10th in class.
Later the car was entered in the 2001 24 H of Daytona with racing number #30 (dns) and remained in USA until 2020, when discovered and imported back to Europe.
At the time of the find the car had a provocative blue/orange Gulf Livery and when the car arrived in Europe the original snow flakes Dolomiti Superski livery has been finally re-made.
Today 360 Challenge s/n 119339 is eligible for a multitude of track events for retired Challenge cars such as a low-cost entry to Ferrari's new Club Competizioni GT series or, for those more serious, the SCCA U.S. Majors Tour, billed by the SCCA as the pinnacle of championship road racing in North America, the SCCA's GT-X class, specifically for older Challenge and GT3 cars or the SCCA's ITX (Improved Touring unlimited) as well as any HSR or NASA weekend, the Daytona Classic of four one-hour races, the Sebring classic with three one-hour races, the Spring Classic at Laguna Seca and a multitude of other track events.
The instrument readout is functional and clearly readable. The roll cage padding and the inner carbon fiber door panels are all in generally good condition. Overall the car presents as an example of track-appropriate car, with no evidence of damage to the body or interior features, often found in cars with long competition histories. Under the hood, the innovative 360 V8 displays excellent castings, correct factory housings and original equipment. The condition of the engine compartment is generally very good, appearing clean and properly preserved.
As one might expect sitting behind the wheel, getting ready to go on track is an adrenaline inducing experience. The engine erupts to a strong idle and revs freely. The 3.6 liter V8 gives remarkable acceleration with astonishing shift points, incredible traction and great braking, making for a car with substantial capability, even in the hands of lesser experienced race car drivers. While certainly a highly responsive car with 175 mph plus speed and legendary agility, once a few laps have passed, the car becomes a genuine delight, pushing you to test the next level of your driving skills. A highly event eligible, factory-built racecar with extensively honed specifications based on Ferraris many decades of GT victories, the Ferrari 360 Challenge is a wallet-friendly entry into Ferrari GT Racing and is, for the first-time club racer, a serious factory built and sorted competition machine with no lack of parts available and with the mechanics to support them at any level.
_____________________________________________________________________
For sale – 2009 Ferrari F430 GTC
Supplied new to AF Corse – 1 of 24 F430 GTCs Built
POA
All details and more pictures HERE at DK Engineering
Built by Ferrari Corse Clienti, leaning heavily on the race experience of Michelotto Automobili, the F430 GTC was the most advanced and developed racing iteration of the Ferrari F430. Whilst the F430 Challenge was little more than a fettled road car, the GTC was designed to compete at the highest level it could viably compete at, FIA GT2 specification.
This development would see the car competing against the likes of Aston Martin's DBR9, Chevrolet's Corvette C6R and Porsche's GT3-RSR on the global stage; the FIA GT Championship, Europe and the American Le Mans Series (ALMS) as well as the standalone 24hrs Le Mans.
The GTC would take significant victories across the board, winning its class championships in the ALMS and FIA GT Championships. GTCs scored class wins at the 2007, 2009, and 2010 12 Hours of Sebring and at the 2008 and 2009 24 Hours of Le Mans.
The preceding 360 GTC had been Ferrari's first real foray into GT-class competition. Unusually for a replacement model, or even Ferrari Modificata evolution, the F430 GTC saw its engine displacement drop to 4.0 litres, destroked from the road variant's 4.3 litre unit. This was to ensure the car could competitively run in the 3.8-4.0L GT2 class. The reduction in power to 439hp was compensated by a drop in overall weight.
AF Corse
AF Corse had been founded by Amato Ferrari in 1995, and whilst sharing the surname, bore no relation to Ferrari SpA. Initially entered into the Italian Superturismo Championship, AF Corse would exclusively manage Maserati's Trofeo Cup from 2001-2005. Subsequently running the MC12 and Maserati Light Coupé, AF Corse returned to the FIA GT Championship in 2006 as Ferrari's factory-backed racing endeavour. AF Corse would win the FIA GT title with the F430 GT2 in 2006,2007,2008 and 2009.
This F430 GTC was supplied new to AF Corse in March 2009 and was raced under the Pecom Racing banner in the FIA GT Championship that year. It was one of three F430 GTC's that they raced and was driven by the Argentine Matthis Russo and Luis Perez Companc, wearing number 95 for the duration of the season.
This car competed in eight championship races across the globe in 2009, finishing 2nd in class at the season opener RAC Tourist Trophy Silverstone on the 3rd of May. Ending the season, Pecom Racing finished 5th in the 2009 FIA GT2 Teams Championship with AF Corse winning overall.
Luis Perez Companc finished 6th in the 2009 FIA GT2 Drivers Championship and 2nd in the 2009 Citation Cup. AF Corse won the 2009 FIA GT2 Teams Championship and as a result, Ferrari won the 2009 FIA GT Manufacturers Cup. Pecom Racing finished 5th in the 2009 FIA GT2 Teams Championship.
Race History – 2009
19.04.2009 – FIA GT Championship – Paul Ricard Test
03.05.2009 – FIA GT Championship – RAC Tourist Trophy Silverstone
16.05.2009 – FIA GT Championship – Adria 2 Hours
21.06.2009 – FIA GT Championship – Oschersleben 2 Hours
25.07.2009 – FIA GT Championship – 24 Hours of Spa-Francorchamps
30.08.2009 – FIA GT Championship – Hungaroring
20.09.2009 – FIA GT Championship – Algarve 2 Hours
04.10.2009 – FIA GT Championship – Paul Ricard 2 Hours
02.10.2009 – FIA GT Championship – Zolder 2 Hours
In 2010 the GTC was bought by LMP Motor Sport of Japan and subsequently entered into the Japanese Super GT Series. Driven by team owner Yutaka Yamagishi and Hiroshi Koizumi, the car campaigned in seven races during the season. Finishing 15th in the Drivers Championship with 10 points, the team were determined to hit the track again and did as such in 2011.
Race History – 2010
21.03.2010 – Super GT Series – Suzuka GT 200 km
04.04.2010 – Super GT Series – Okayama GT 300 km
02.05.2010 – Super GT Series – Fuji 400 km
20.06.2010 – Super GT Series – Super GT International Series Malaysia
25.07.2010 – Super GT Series – Sugo GT 300 km
22.08.2010 – Super GT Series – 39th Pokka GT Summer Special, Suzuka
24.10.2010 – Super GT Series – Motegi GT 250 km
Continuing its campaign in the Japanese Super GT Series, this time clothed in a new Ika Musume design in collaboration with the animation "Shinryaku! Ika Musme", the car was raced under the name 'PACIFICNAC Ika Musume Ferrari'. With Hideki Yamauchi as the new driver alongside Yutaka Yamagishi, they finished 4th in the qualifier at the opening series, Okayama International, and 2nd for the Super Lap; overall finishing the race 5th. Its most successful race of the season earnt the team a place on the podium with 3rd place under their belt on the 19th of June in Malaysia.
Race History – 2011
01.05.2011 – Super GT Series – Fuji GT 1
22.05.2011 – Super GT Series – Okayama GT
19.06.2011 – Super GT Series – Super GT International Series Malaysia
30.07.2011 – Super GT Series – Sugo GT
21.08.2011 – Super GT Series – 40th Pokka GT Summer Special
11.09.2011 – Super GT Series – Fuji GT 2
02.10.2011 – Super GT Series – Autopolis GT
16.10.2011 – Super GT Series – Motegi GT
Once again, this time for the 2012 season, the car was entered into the Japanese Super GT Series with LMP Motor Sport for what would be its last campaigned year. With Takuto Iguchi and Yutaka Tamagishi behind the wheel, this time the team clearly had the car on form and completed all eight rounds.
Race History – 2012
01.04.2012 – Super GT Series – Okayama GT 300 km
04.05.2012 – Super GT Series – Fuji GT 1,500 km
10.06.2012 – Super GT Series – Super GT International Series Malaysia 300 km
29.07.2012 – Super GT Series – Sugo GT 300 km
19.08.2012 – Super GT Series – 41st International Pokka 1,000 km
09.09.2012 – Super GT Series – Fuji GT 2,300 km
30.09.2012 – Super GT Series – Autopolis GT 300 km
28.10.2012 – Super GT Series – Motegi GT 250 km
Hugely eligible, today this F430 GTC can be competitively entered into the Global Endurance Legends and Masters Endurance Legends race series, as well as holding a qualification for participation in the Ferrari Club Competizione GT; another event which has been gaining traction in recent years.
Recently refinished in its 2009 livery and one of just 24 F430 GTCs built, this example is accompanied by its Michelotto book pack, spare parts catalogue and document pack, this unique example presents at our showrooms outside London available for viewing immediately.
For sale – 2007 F430 GTC
All details about the sale HERE at ClassicDriver
History: Built since 2006 by Ferrari Corse Clienti department in collaboration with Michelotto Automobili, the F430 GTC is a racing car designed to compete in international GT2 class competition, such as in the American Le Mans Series, Le Mans Series, and FIA GT Championship. F430 GTCs also compete at the 24 Hours of Le Mans. The GTC was the fastest and most developed racing version of the F430.
In FIA GT2 championship, in order to render the car performances more uniform, the cars are forced to run with a specific minimum weight and with an engine restrictor that depends on the engine displacement. Hence Ferrari destroked the 4.3 L V8 engine to 4.0 L in order to compete in the 3.8–4.0 L class in GT2 class racing, which is allowed to race with a minimum weight of 1,100 kg (2,425 lb). In this race configuration, the engine produces somewhat less power (445 PS (327 kW; 439 hp)) and by using the 4.0 L engine, the minimum weight of the F430 would increase by 50 kg (110 lb) but this is compensated by the reduced weight of the car, which yields a better power-to-weight ratio.
Our car:
This 430 GTC 2 chassis #2480 was built in 2007 and raced into only at the Interlagos race. Since then the car was taken back to Michelotto where it had a complete restoration which was completed in 2019 and the car only had its first shakedown in early 2020. One of the last cars with a sequential manual gearbox, an amazing racing car that can compete in multiple racing events but also stand proud in any Ferrari collection.
Available by Veloce Classic Italia, Padova, Italy 🇮🇹
Price: P.O.A
_____________________________________________________________________
_____________________________________________________________________
All details and more photos HERE at bingosports.com
1994 Ferrari F40 Competition
Chassis no. ZFFGX34X000099401
・Fully restored by Michelotto Automobili
・As good as new
・Last of line that only produced 20
・Registered in Japan, allowed to drive on the streets
"Rare F40 competition perfectly restored by Michelotto Automobili"
Racing activity with F40 started under the leadership of Charles Pozzi SA, a Ferrari importer in France, who is well-known in racing industry. Back then, Racing division of the Ferrari Factory was focused on Formula One and Michellotto in Padova, Italy was assigned to development of the machine because they already had an experience on creating 288GTO Evolizione. Of course, Ferrari provided a big support for development of power train.
F40 Racing was called F40LM, short name for "Le Man", and that was also decided based on the request by a French racing team. That was the name remind us of 250LM, 60's racing car.
F40LM is a racing car that diverted from road car and only 2 cars were produced, and its usage as a race car was limited to IMSA (International Motor Sports Association).
It did not take long for V.I.P. customers to start requesting to have F40 with the same style of F40LM when they saw F40LM in IMSA. Ferrari was pleased to accommodate the requests by such customers and placed an order of the said vehicle to Michelotto Automibili and that was how F40 Competizione was created.
The distinguished exterior from base model attracts people's attention. Fixed headlight, air duct on front cowl and movable rear spoiler are armed were installed to be competitive, yet remain gorgeous style. It was natural for F40 fans to tried to imitate the appearance of this vehicle.
As for an interior, F40 Competizione has more racing car-like taste than ever because digital meters and fire extinguisher are equipped and lining is done in very minimal amount.
Boost pressure was increased for the engine and it outputs more than 700hp that is 200hp more than the base model.
F40 Competizione was often called as F40LM because the design of exterior and interior, and the spec of power train are very similar to the ones that actually raced in IMSA.
This vehicle was sent to Michelotto Automobili of Padova to have very detailed restoration spending a full year from 2013 to 2014. Bodywork was done by Carrozzeria Nuova Rinascente (former Carrozzeria Cognolato) who had worked on the vehicle when it was first being produced. They did their work with scrupulous care throughout the vehicle even on the small details in order to recreate the quality of a brand new car. There is a restoration record with details of their work.
This is already registered in Japan, so it is ready for you to experience the legendary drive on the streets.
"The History of F40"
In 1986, the development of F40 was started and 288GTO Evoluzione, created in purpose of Group B competition, lay at the base of it. Insiders were calling the project as "Le Mans" and Michele Alboreto, a F1 driver, had joined the development team led by Nicola Materazzi.
A space structure with chrome molybdenum pipes holds the strong but light-weight cabin which constructed with many weightless parts i.e., Nomex, Carbon Kevlar, and Aluminum Honeycomb.
It was the traditional structure of Ferrari to have the cabin between suspension and power unit by combining with a sub-frame to accommodate them, but that tradition no longer seen after F40.
New weightless materials became possible to use because stress bearing to door panels were eliminated by the strong space structure. Carbon fiber is mainly used for the body panels and various composite materials are used on the chassis and the frame. A special glue was used to attach reinforcing materials onto the frames of pipe.
Under the supervision of Leonardo Fioravanti, a former chief designer of Pininfarina, Aldo Brovarone was in charge of exterior design. The most advanced aerodynamics was pursued with a large rear wing, a diffuser at the rear, and a flat floor. Blinkers and position lamps are covered by acryl and placed in the front of retractable headlights that are formed in thin rectangular shape.
NACA duct on the hood is for air conditioning and side intakes are for cooling intercooler and brakes. NACA duct is also on the upper fender as well and the left one is for oil-cooler for the engine; the right one is divided in two, the outer one is oil-cooler for the gear and the inner one is for the engine room.
Water-cooled V8 DOHC with 32 valves engine is named F120A. It is vertically mounted in the middle with twin IHI turbocharger and its displacement was increased from 2855cc of 288GTO to 2936; the turbo boost pressure was increased to 1.1 bar, maximum, from 0.8 bar. The fastest speed is announced to be 324km/h and maximum output of 478 PS and torque of 58.8km are recorded.
F40 was unveiled in Geneva Show in September of 1987 as a celebration of 40-year anniversary of Ferrari. The initial production volume was planned to be 400 cars, but 1351 cars were delivered because many of Ferraristas could not resist the beauty of F40 regardless of its price, 250,000 US dollars.
This vehicle has own extraordinary beauty of traditional body structure, different types of composite materials, and undeniable high performance. Many of F40 fans from all over the world are seeking for this machine, born in transition of 1970s' super car generation to today's super sports generation.
Photos by bingosports.com
_____________________________________________________________________
1984 Ferrari 288 GTO Evoluzione
All details and more pictures HERE at bingosports.com
1984 Ferrari 288GTO Evoluzione
Chassis number: ZFFPX16X0G0070167
・The first Evoluzione ever to roll out of the factory
・Powered by the only F114CR unit in existence
・The only street-legal example of the five
・Perfectly restored at Michelotto
"#70167 perfectly restored at its birthplace"
The Ferrari 288GTO Evoluzione introduced here is given the chassis number 70167 and powered by the only CR unit in existence. What this means is that #70167 was tested on public roads and is the only street-legal individual of the five 288GTO Evoluziones ever produced.
Aside from the #70887 car that was converted from the stock 288GTO (#50253), this #70167 was practically the first genuine Evoluzione constructed from scratch and has established its own spot in the history of legendary Ferraris. Except for #70250 exhibited at Ferrari Museum Maranello, it is very likely that the other three (#70887, #70888 and #70889) have been obtained by private hands. We are also told that #70887 is powered by the CR2 unit while #70250, #70888 and #70889 carry the F114B that is a standard 288 GTO power plant.
This example was sold by Pierre Bardinon collection, renowned worldwide for its array of monumental Ferraris, to Art Sports before a well-known Japanese enthusiast acquired it. After we made the acquisition, it was then sent back to Michelotto factory, where the car received a meticulous, nut-and-bolt restoration in order to get it back to new-car-like condition. It was a perfectly-carried-out restoration no one else could have given but Michelotto, who is still capable of providing almost every part of the special vehicles (F40 siblings, 333SP, etc.) that it took part in giving birth to.
"The prancing horse at the point of complete turnaround"
The Ferrari F40 still commands respect from Ferrari enthusiasts all over the world while the 288GTO remains one of the most sought-after model with its low volume of production at 272 and historic GTO signature. The 288GTO, targeted at Group B competition, ultimately evolved into the F40, but before the transformation, there was the 288GTO Evoluzione that played an important role as a link between the two.
The Evoluzione was a development vehicle that was based upon the 288GTO and paved the way for F40. Though there are a number of street-legal and competition Ferraris that are historically significant, the 288GTO Evoluzione will certainly be remembered as one that served a short-lived, but vital duty between the 288GTO and F40, two of the greatest Ferraris of all-time.
Right before the 288GTO was born, Michelotto gave birth to the 308GT/M, a prototype race car that totally changed the destiny of the company for good. It was a Group 4 racer based on the 308GTB which helped put the name "Michelotto" on the map as a racing Ferrari specialist. As Ferrari factory team lost interest in races outside the F1 circus, Michelotto started getting more deeply involved in race activities on their behalf.
In preparation of prototype racers for Group B category, Michelotto came up with the 308GT/M in 1984 with the longitudinally-mounted F105A unit that was originally designed for the 308GTB Quattro Valvole.
On the other hand, Ferrari in the early 80's was in desperate need for a new high-performance model to replace the current lineup (including 308s and Berlinetta Boxers) that was falling behind the rivals in performance. The project led by Nicola Materazzi to develop a new hyper car would eventually result in the introduction of the 288GTO.
In 1984, the same year the Michelotto's 308GT/M debuted, the Ferrari 288GTO was premiered worldwide. While Ferrari ended up with 272 examples in two years of production even though the GTO lost its opportunity to compete in the Group B category, Ferrari decided to develop the GTO Evoluzione after it found out the F114B unit had a lot of room left for improvement in order to create a more extreme sibling.
Since there still was a slim possibility left for the GTO to be able to compete in races at the time of development in 1986, the Evo. was going to be a joint project between Ferrari factory and Michelotto, who was getting recognized as a semi-factory Ferrari team.
Materazzi, who was in charge of developing the GTO, was again named the chief engineer by Enzo Ferrari for the creation of the Evo. and came up with two variations of prototype power plants by exploiting the performance envelope of the F114B. The mild of the two was the F114CR which produced "modest" 530ps and eventually powered the F40 in a few years. On the other hand, the F114CR2(CK) was more drastically upgraded to produce 650ps and found its place in the engine compartment of the F40 Competizione.
The significance of the 288GTO and F40 in Ferrari history will never be surpassed. The GTO is the final and complete form of "Fioravanti Ferrari" that concluded the era of old-fashioned supercars starting in the 70's while the F40 kicked off the new age of super sports that still remains mainstream today. Widely recognized as the link between the two, this epoch-making 288GTO Evoluzione will certainly have its place in Ferrari history.
Ferrari ended up producing five examples of this highly sought-after prototype.
_____________________________________________________________________