Group 1 – 1993 to 2006: Ferrari Challenge/GT – 348/355/360/430 inkl. 360 N-GT, GT, GTC and 430 GT3/GT2
Group 2 – 2006 to 2018: Ferrari Challenge/GT – 360 GTs, 430/458/488 inkl. 430 GT3/GT2, 458 GT3/GT2 and 488 GT3/GT2
Group 3 – Ferrari 512 BB LM, F40 GT/LM/GTE, 333 SP, 550 GTC, 575 GTC and similar GTs incl. the Michelotto 348 GTC / LMs
Group 4 – All road legal Ferraris
*Timetable Day One – 9. May:
Drivetime
08.30-08.55  Drivers meeting (mandatory)
09.00-09.25 Group 4
09.30-10.25 Group 1
10.30-11.25 Group 2
11.30-11.55 Group 3
12.00-13.00 Lunch break
13.00-13.25 Group 3
13.30-14.25 Group 1
14.30-15.25 Group 2
15.30-16.25 Group 3
16.30-16.55 Group 4
17.00-17.55 Group 1,2 and 3
18.00-19.00 Foto session at the starting grid
*Timetable Day Two – 10. May:
Drivetime
08.30-08.55 Group 4
09.00-09.55 Group 1
10.00-10.55 Group 2
11.00-11.55 Group 3
12.00-13.00 Lunch break
13.00-13.25 Group 4
13.30-18.00 Group 1,2 and 3 – Free driving for all groups (exept Group 4) – "open pitlane" for all drivers and groups…
*The schedule is not fixed and can be adapted any time
* The final grouping will take place at the event and can be changed any time
The full and NEW timetable is HERE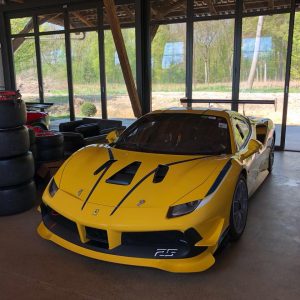 First time on the track at the Challenge and GT Days in May by Jan B. Luehn
Raced at the 2009 24 Hours of Le Mans with Joey Foster, Don Kitch Jr and Patrick Dempsey
Extensively campaigned by AF Corse in the Italian GT Championship and European Le Mans Series from 2006 to 2011
Competed in the FIA CEZ Championship with K&K Racing from 2013–2016
Engine serviced by Michelotto in 2016, not driven since
Direkt link to RM Sotheby's https://www.rmsothebys.com/en/auctions/MC18/Monaco/lots/r0100-2006-ferrari-f430-gtc/678152
Estimate is: €450.000 – €500.000
According to its accompanying Certificate of Origin, the F430 GTC presented here, chassis no. 2446, was completed on 18 July 2006 and delivered later that year to AF Corse in its native Italy. The car was only raced at one event that year, in November at the International GT in Barcelona, where it placed 17th overall. The next year would see a much more extensive competition record for chassis no. 2446 in the Italian GT championship. Driven primarily by Andrea Palma and Alberto Cerrai, two other driver pairs also got behind the wheel for a few events: Mathias Moser and Rui Aguas at Oschersleben and Lorenzo Casè and Boris Maletic at Monza and Barcelona. Notable finishes that year included winning both its races at Mugello on 1 July 2007 and finishing 2nd at both Magione and Vallelunga.
Returning with AF Corse for the 2008 season in the Italian GT Championship, Palma and Cerrai would once again get behind the wheel and also shared driving duties with Damien Pasini and Alessandro Bonetti. The car's only win of the season was in the second race at Vallelunga in April with Pasini and Bonetti, and the pair would land 2446 on the podium twice more that season: at Spa Francorchamps in June and Magny Cours in September.
Two thousand and nine would without a doubt be chassis 2446's most exciting season. AF Corse partnered with Team Seattle, a racing team that raises funds for the Seattle Children's Hospital in Washington state, to enter the 24 Hours of Le Mans. Competing at the 1,000 km of Spa Francorchamps, as well as at Italian GT Championship events at Vallelunga and Magione prior to Le Mans, AF Course decided to use chassis no. 2446 for Le Mans upon being upgraded from reserve to full entry status, after the withdrawal of Gigawave Motorsport's Aston Martin DBR9 in March of that year.
Drivers for the race would be Team Seattle founder Don Kitch Jr, Joe Foster and Grey's Anatomy actor and racing driver Patrick Dempsey. This would be Dempsey's first outing at Le Mans, and the trio placed 30th overall and 9th in class. Each respective lap completed helped to increase pledges for donations resulting in a respectable first Le Mans for Dempsey with the success and skill of he and his teammates directly benefitting a fantastic cause.
Returning to AF Course and the Italian GT Championship for the remainder of the 2009 season, the car scored 2nd and 3rd place finishes at Misano, just one month after Le Mans, and also competed at the 1,000 km of Nürburgring and the 1,000 km of Silverstone before finishing at the top of the podium at Mugello and Monza in September and October of that year. Chassis no. 2446 continued to compete with the team in that series through 2010 and 2011, securing overall wins at Imola in 2010 and Portimao, Misano and Vallelunga in 2011. The car only appeared at one event in 2012 during the Winter Series at Paul Ricard, finishing 10th and 3rd in two races.
In 2013, the car was sold to the K&K racing team, based in Prague, and competed with them in the FIA's Central European Zone Championship. In their ownership, the engine received a 5,000 km overhaul at Michelotto in April of 2016 and was acquired by its current owner shortly thereafter and never driven since.
Active in racing for almost its entire life, chassis no. 2446 benefits from an extensive racing career throughout Europe, highlighted by its appearance in the 2009 24 Hours of Le Mans with Team Seattle, AF Course and Patrick Dempsey joining forces to support a worthy cause. It would certainly be impossible to find an F430 GTC with a more interesting history and would certainly revel in returning to the track in the Masters Endurance Legend series.