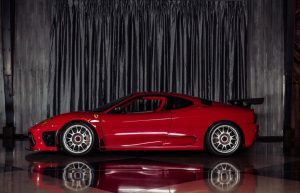 Chassis No. 2022
Engine No. 110
Gearbox No. 110
One of only 20 360 GTs built
Delivered new to Risi Competizione
Campaigned at the 2003 12 Hours of Sebring
The only Ferrari Classiche-certified 360 GT
Details and more Pictures About the car and the auction HERE
Throughout its history, Ferrari has enjoyed a strong record of success in GT racing through both factory entries and privateer racing teams. At the introduction of the 360 Modena in 1999, it was clear that this car was a quantum leap in performance over the outgoing F355. A number of teams expressed interest in taking the 360 Modena racing.
With factory support, three race cars were built for JMB Racing and the 2000 FIA GT season. When the team won the FIA N-GT driver's and team championship in 2001, Ferrari decided to offer a full competition-variant of the 360 Modena to racing teams. Produced in conjunction with Michelotto, the 360 GT was specifically engineered to compete in the FIA's N-GT and A.C.O. Championship series for the 2002 and 2003 seasons. Only 20 cars were produced, numbered in an even-number range from chassis no. 2002 to 2040.
Of those 20 cars, three were delivered to the Houston-based race team, Risi Competizione, and chassis no. 2022 was the second example they received. Arriving in early 2003, the car's first event was the 12 Hours of Sebring that year. Driven by Marino Franchetti and Kevin McGarrity, the car qualified 36th on the grid. Making it through 243 laps of the race, it was eventually sidelined after an accident. To complete repairs, the car was returned to Italy to be rebuilt.
Returning to North America in 2004, the 360 GT was sold to Remo Ferri of Ferrari of Ontario and subsequently Dan Heard of Baton Rouge, Louisiana, in 2005. In Heard's ownership, the car made two trips to the track in 2006 and 2007 but remained mostly in storage during this time. A major service that included new cam belts was completed in April 2012, and it was sold to Bruce Banyo in 2012. Banyo showed the car at the Cavallino Classic in 2014, winning a Silver award, and the car was sold to the current owner this year. In his care, chassis no. 2022 was shown at the Classiche Concorso d'Eleganza at Daytona Raceway as part of the Ferrari Finali Mondiali in 2016.