Archive for December, 2018
Description:
For sale is the number #2860 chassis of a 2013 Ferrari 458 GTE.
Summary of race history:
– 2013 European Le Mans Series
– 2014 Silverstone 6 Hours (WEC)
– 2014 24 hours of Le Mans
Original livery (Ram Racing) available upon request.
Negotiation price: EUR 600'000 ex. VAT.
More Details HERE
More pics and details HERE
Description:
To be sold by Silverstone Auctions at 'Autosport International' on Saturday 12th January 2019 at the NEC, near Birmingham B40 1NT. For more information please contact classic car specialist Arwel Richards on +44 (0) 7434 960868.
Registration: N/A
Chassis Number: ZFFXR418000107845
Engine Number: 45115
Number of cylinders: 8
CC: 3500cc
Year of Manufacture: 1997
RHD/LHD: Left Hand Drive
Estimate (£): 90,000 – 105,000
(+buyer's premium of 15% including VAT @ 20%)
Delivered new to Venezuela in 1997 for use in the Ferrari Challenge Series
Officially certified as one of the 108 cars produced by the factory for track use
Sourced by our vendor from the United States in 2008 for use in the Ferrari Owners Club GB Series
Extensive works included a BTB race exhaust system, carbon fibre panels and interior, and a full engine rebuild
The car has won six races, several podiums, set fastest lap records for its class and won the series in 2018
Presented to auction freshly painted. Original steel panels and dashboard. Three sets of wheels.
In 1995, Ferrari introduced a race-ready F355 Challenge model designed for use specifically in the Ferrari Challenge Series. The bespoke model was created by starting with a standard Ferrari F355 Berlinetta and modifying it with a $30,000 factory-to-dealer supplied kit. Initially in 1995, the cars were supplied with factory fitted cage mounts and without carpets, however, each year, the cars arrived with more and more factory fitted race parts, culminating in 1998 with full-evolution cars which were supplied as virtually complete race cars.
The factory modifications were more substantial than the 348 Challenge and the engine, gearbox and shock-absorbers were sealed with special tags to prevent unauthorised alterations. The factory fitted modifications included a roll-cage, racing bucket seats, manual radiator fan control and upgraded fans, competition steering wheel, competition clutch, upgraded 14″ Brembo brakes (carried over from the F40), solid suspension bushes, competition springs, and brake cooling ducts amongst a number of other detail changes from the base car.
The F355 'Challenge' shares the same engine and physical dimensions as the original car and 108 cars in total were produced, all with the 6-speed manual transmission. According to the accompanying Ferrari Certificate of Origin, the car was first delivered on the 29th January 1997 destined for Venezuela with engine number 45115. The delightfully named National Commission of Speed of Venezuela issued a certificate in 2000 that stated the car was raced thirty times in the Ferrari Challenge Cup during the 1997, 1998 and 1999 seasons, gaining second place twice, piloted by Juan Iliopoulos.
Mr Iliopoulos emigrated to the United States in 2000 taking the car with him and placing it into storage. Our vendor, whilst on holiday in the United States, came upon the car in 2009 and bought it directly from Mr Iliopoulos as a non-running car. Importing it into the UK, our vendor commissioned award-winning Ferrari racing car specialists, RNR Performance Cars of Kent, to carry out a program of extensive recommissioning works. We can supply a full list of works, but in brief, the car benefitted from a BTB race exhaust system, a safety fuel cell, and carbon fibre doors, bonnet, boot lid, panels, and dashboard. A full engine rebuild took place less than 25 hours ago at a cost of some £30,000. Once race ready, our vendor entered the Ferrari Owners Club series winning six times, enjoyed a number of podium appearances, set numerous Class lap records, and topped it off by winning the series in 2018.
The car was freshly painted in August 2018 and is supplied with three sets of sets of wheels and tyres, the original steel panels and dashboard, a history file detailing previous ownership, the aforementioned certificates, and a substantial number of invoices for race preparation, maintenance and attention. To conclude, this F355 Challenge is not merely a weekend track-day toy but a proven race-series winner in the hands of just two gentlemen racers, and one of just 108 Maranello-produced examples.
Due to many inquiries for Maserati Race Cars we decided to open the classes also for the Maserati Open Cup, Trofeo and the fantastic MC12 GT1. We have already commitments on some Vitaphone MC12, Ghibli Open Cup Cars, and Trofeos.
We are really looking forward to see the 550 GTs, 575 GTC and the MC12 GT1 together back on track…
Welcome Maserati to the Challenge and GT Days 2019 – All details, classes and the timetable HERE
In 1987, Ferrari celebrated their 40th anniversary, and to mark the occasion launched arguably their most uncompromising road car ever – the twin-turbocharged 471-bhp, 201-mph F40. Borrowing heavily from technology developed for the still-born Group B 288 GTO Evoluzione programme, it was no surprise when the evocatively named F40 LM finally hit the track in 1989 – albeit at the behest of the French Ferrari importer Charles Pozzi rather than the factory itself.
Developed by Michelotto, the F40 LM benefitted from enlarged twin IHI turbocharger/ intercooler units and advanced Weber-Marelli fuel injection, which increased power to over 700 bhp. A corresponding reduction in weight to just 1,050 kg resulted in predictably awesome performance, whilst the car also featured extensive chassis stiffening, race-specification transmission, uprated brakes and extensively modified bodywork.
This particular example – chassis no. 74045 – has a fascinating and illustrious history. Originally used as a pre-production prototype by the factory, it was sold to former Le Mans and IMSA driver Rene Herzog in early 1992. Herzog sent the car to Michelotto for conversion to LM specification, although shortly after its completion ownership passed to his fellow Swiss Charles Zuger. In 1995, the car was sold to GT Racing impresario Stephane Ratel who raced it in the European GT Championship of that year, but in turn sold the car mid-season to the French Pilot-Aldix team for use in the BPR Global GT Series of that year.
Driven by the all-French pairing of Michel Ferte and Olivier Thevenin, the car's top-line career started inauspiciously with retirements in each of the first four rounds of the series at Paul Ricard, Monza, Jarama and Nürburgring. However, by Le Mans pre-qualifying in April – and with 74045 now patriotically re-painted in French Racing Blue – fortunes had improved markedly, with the team leaving the Sarthe circuit an encouraging fifth fastest overall, and fastest of all the GT1 runners.
A little over six weeks later – and with their line-up bolstered by third driver Carlos Palau – the team qualified an excellent 7th for the 24 Hours of Le Mans itself, and 2nd in GT1 ahead of all seven of the hitherto pace-setting McLaren F1 GTRs. The race was blighted by wet conditions which played to the McLaren's strengths, but nevertheless 74045 finished a respectable 12th overall and sixth in GT1. Significantly, this would prove to be the best result ever achieved by an F40 at Le Mans.
A fortnight later, Ferte and Thevenin took pole position for the Anderstorp Four Hours and followed this up with an emphatic win ahead of the McLarens of Nielsen/Bscher and Raphanel/Owen-Jones. A mixed end to the season saw retirements in both the Suzuka 1000 KM (electrics) and the Zhuhai Three Hours (gearbox), but also a highly creditable 2nd place finish in the Silverstone Foour Hours behind the Harrods-sponsored McLaren of Wallace/ Grouillard.
For 1996, the driver line-up was retained, the car uprated with a GTE-specification rear wing and a similar assault on the BPR series planned to that of the previous year. Over the balance of the season, it was clear that the Italian Ennea squad had overtaken their French counterparts as top Ferrari team, with a 5th place at Jarama, 8th at Silverstone, 6th at the Nürburgring and a 3rd place at Nogaro, the highpoints of an otherwise trying year for Pilot. At Le Mans, Ferte and Thevenin were joined by French journeyman Nicolas Leboissetier, although the proliferation of new breed WSC cars – not to mention the inclusion of Porsche's controversial 911 GT1 – ensured that they would qualify no higher than 25th, prior to retirement in the race.
Following the conclusion of the car's contemporary racing career at the end of the 1996 season, it passed through the ownership of several prominent collectors, prior to its acquisition by the current owner in 2008. It is important to note that the car was freshly serviced last year and today remains on the button to participate in vintage racing events, namely the new official Ferrari program, Club GT Competizioni. Adding to its overall desirability, the car is offered with its original gearbox and a set of spare wheels. Given the paucity of factory-blessed Sports Racing and GT racing Ferraris in recent decades, 74045 – especially given its top-level racing history – is surely a 'must have' for any serious Ferrari or competition car collector.
Resplendent in the livery worn on its competitive swansong at Nogaro in 1996, it also represents a highly attractive and hugely charismatic entry for the European-based Masters Endurance Legends and Global Endurance Legends series, not to mention the burgeoning HSR and Daytona 24 Hour Classic events stateside.
Having enjoyed a thrilling competition career, including two outings at the 24 Hours of Le Mans, chassis no. 74045 is without doubt the most significant F40 LM and amongst the most significant privateer-campaigned Ferrari racing cars. It would warrant pride of place in any of the most prestigious Ferrari collections around the globe. It is a car that its next owner can enjoy at a multitude of historic racing events and one that would surely be welcomed at any of the finest concours events worldwide.
May your wishes become true. All the best and keep on dreaming…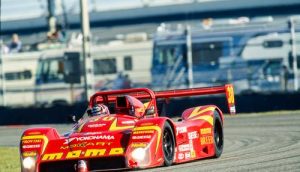 The most successful 333 SP in existence, sold by Jan B. Lühn
Hope to see the 333 SP next year at our Challenge and GT Days
Global Endurance Legends introduced in the form of parades in 2018 will put on demonstrations and races at six destinations on the Peter Auto circuits calendar in 2019.
The Peter Auto historic series comprise a large selection of racing cars ranging from the mid-1950s (The Greatest's Trophy) to the beginning of the 1990s (Group C Racing). To meet the tastes of the youngest spectators and collectors it has become necessary to add a grid for even younger cars. Thus, in 2017 Peter Auto approached the club founded by Jarrah Venables, whose aim is to give the owners of GTs and prototypes from the 1990s-2000s the opportunity to drive their cars in a top-class environment. The three events in 2017 became four in 2018 and proved an instant success, with the highlight being Le Mans Classic where no fewer than 77 cars entered. This has created such a buzz that the gentlemen drivers have expressed their wish to see the demonstrations turn into races!
Progressive evolution
So as not to rush into things both formats will be on offer in 2019. Participants will be able to enter for three race meetings at Peter Auto's Barcelona, Spa and Monza events, or for the whole season that includes demonstrations at two more events (Dijon, Le Castellet). This evolution should not make us forget the fact that the club is dedicated above all to amateur drivers who are out to enjoy themselves at the wheel of the exceptional cars. Expect to see GT1 cars such as Ferrari F40 LM and 550, McLaren F1 GTR, Porsche 911 GT1, GT2 icons like the Porsche 993 GT2 to 997 RSR, Chrysler Viper GTS-R, and Ferrari 360 to F430 GTC, plus of course prototypes like the iconic Audi R8 LMP and Bentley Speed 8. In fact, to focus on cars that share aspects like history, performance and popularity the eligibility criteria will be slightly modified for the races, whilst being more accommodating for the demonstrations.
It should be noted also that in addition to the the Global Endurance Legends partnership, Jarrah Venables will also be acting as Peter Auto's English representative covering all of their events, with a particular focus on the Chantilly Arts & Elegance Richard Mille. Jarrah Venables comments "I am delighted to continue and expand the Global Endurance Legends association with Peter Auto into 2019! Things have come a long way since they very earliest iteration of activities I organised for these cars in 2014 before the days of Global Endurance Legends, something I am very proud of. This has only been possible though due to the enthusiasm and support of the owners and in particular Peter Auto. I'd like to thank Patrick Peter for his willingness to welcome our club into his events, which I have long admired for their quality and style. In addition I am delighted to personally act as their English representative, and can't wait for their 2019 season of events!"
BPR, 25 years on!
It's worth pointing out that the fact that Global Endurance Legends is gathering momentum resembles a homage to Peter Auto as the organiser made a significant contribution to the history of these cars at the circuits in both the 90s with the BPR (Barth-Peter-Ratel), and the 2000s with the Le Mans Endurance Series.
---
Eligibility
Eligible cars: Sebring 12 Hours (1994-2010), Daytona 24 Hours (1994-2010), Le Mans 24 Hours (1994-2010), American Le Mans Series (1999-2010), BPR (1994-1996), FIA GT (1997-2009), FIA Sportscar Championship (2001-2003), IMSA (WSC 1993-1998), International Sports Racing Series (1997-2000), Le Mans Endurance Series (2001-2005), Le Mans Series (2006-2010).
Exceptions (ineligible cars): LM P1 and LM P2 after 2005, GT3, Ferrari Challenge, Porsche Supercup & Carrera Cup, Daytona GTD, Daytona Prototypes.

There will be an invitation class for non-eligible cars in the races
---
Format
Competitions (Espíritu de Montjuïc, Spa-Classic, Monza Historic):
Free Practice: 1 x 00:30
Qualifications: 1 x 00:30
Race: 1 x 01:30

Demonstrations (Grand Prix de l'Age d'Or, Dix Mille Tours du Castellet):
Untimed free practice: 3 x 00:40