Archive for December, 2017
What a Story about and around the fantastic Ferrari 458 GTs
It's become a tradition now to say goodbye to the Ferrari 458 GTE each Christmas on DSC, as each year when it looks like its run at the top of sportscars is over, a privateer team decides to enter one again!
Now though, finally!! it looks highly unlikely that we'll see the 458 GTE in 2018 and beyond, even as a customer entry, with the new turbo-charged 488 GTE now eligible for the WEC's GTE Am class and GTE in the ELMS.
This year JMW Motorsport continued to campaign its 458 GTE at the start of the year, and sent it off in style with an ELMS GTE class win in Monza in its final race with the team before its 488 GTE was delivered (and won GTE Am at Le Mans in its very first race).
That performance by JMW this year capped off an incredible run for the car, which has taken wins in the WEC, ILMC, ELMS, WeatherTech SportsCar Championship, Petit Le Mans, Sebring, the ALMS and of course Le Mans in recent seasons.
It will most definitely be missed though, as its screaming 4.5 litre V8 has become part of sportscar racing's modern soundtrack, the successor 488 lacks for nothing in pace, but the aural outpourings of the twin turbo V8 are somewhat 'folk singer' to the 458's 'heavy metal opera star'.
n light of its wins this season, helping JMW to another ELMS title, here's a complete rundown of all its big wins and titles since its 2011 debut: http://www.dailysportscar.com/2017/12/28/2017-goodbyes-the-ferrari-458-gte.html
More about the JMB Racing Challenge Ferraris: http://www.fchgt.com/forum/viewtopic.php?f=3&t=952&p=5529#p5529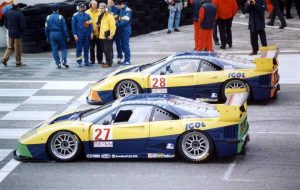 More about the fantastic F40 GTs http://www.fchgt.com/forum/viewtopic.php?f=4&t=70
Car will be at Bonhams Auction Paris 2017
Estimate 135.000-175.000,– EUR
The Ferrari Challenge is best described as the ultimate streetcar race series. Owners of Ferrari F355s have a chance to experience the performance of their cars in a competitive and safe environment – racing on some of the most famous tracks the world round. In 1995, the 348 Challenge passed the torch to the new F355.
When it was launched, the F355 was an instant success: its 109 bhp/litre is translated into motion by a transverse closely geared six-speed manual transmission. Like the Challenge offered here, the early models were essentially road cars with cage mounts fitted and carpets removed. Owners then equipped a $30,000 factory-to-dealer kit which included racing seats, a lightweight exhaust, Brembo brakes and other racing essentials to make their cars competition ready, as dealers were expected to provide support to the owner/drivers.
The F355 Challenge offered here was first raced in the 1995 Challenge Ferrari Europe Series by Bernard Chauvin before passing to Michael Mora for the 1996 series. Mora raced the F355 for the following three years, placing sixth overall for the 1998 season and retiring at the end of the 1999 season. During this time, it was campaigned at tracks all over Europe, including Mugello, Paul Ricard, Brands Hatch, Zandvoort, Imola and even the Nürburgring.
Prepped and waiting for its next owner to take a spin, this F355 Challenge is primed and ready to go.