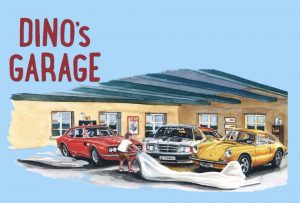 "Dino's Garage" tells the story of little Dino discovering his old cars in his father's garage. Each of these cars has its own story, which they will tell Dino one day!
They are about their adventures around the world, their experiences with the family, previous owners, races and excursions, their feelings and dreams. Wonderfully illustrated and full of fantasy.
"It tells a story" – it always fascinated me when a car tells a story. And that's how the idea for this book came up, wonderfully illustrated by Uli Ehret.
Enjoy DINO's Garage – Heinz Swoboda