Discription:
009 Specification Ferrari F430GTC GT2
Hankook Livery with Silver Interiors/n F131EVOGTC*2608*
Asking Price is EUR 600.000,–
While Ferrari's 430 Challenge is essentially a lightened and tuned street variant of the car, the 430 GT2 is quite a different animal from the Challenge. The GT2 is a comprehensively prepared race car that competes in the world's most prestigious events, including the FIA GT Championship, Le Mans, and American Le Mans Series. It is Ferrari's top of the line 430-based race car, being lighter, more fully developed, and faster than the Challenge and the GT3. Consequently, it is also the most expensive, and the 2009 variant of the car is a further refined version of the 2008 car. If the car is being used in the SCCA or NASA events, more club-level events, the car could be tuned so that running the car will not make it much more expensive than running a Challenge car.
Like all genuine 430 GT2's, this is a Michelotto-built car. This is a one-owner car that was invoiced by Michelotto to its original owner on the 16th of January 2008. In addition to the 435,000 euros for the car itself, this car has over 30,000 euros of options, including data acquisition system sensors, water and oil quick refilling system, air conditioning system, endurance racing refueling lights, carbon clutch, and supplemental brake cooling system. The car was campaigned in the 2008 American Le Mans Series by Tafel Racing, during which time it scored no less than four race wins en route to second in the GT2 team championship standings. Following the 2008 ALMS championship season, the car was supplied to Franbacher Racing and fully updated for the 2009 European Le Mans Series including the prestigious 24 Hours du Mans. At the tail end of the 2009 season s/n 2608 won the only Asian Le Mans Series race it entered at Okayama, Japan.
2008 Race Results
Sebring 12 Hours March 15th D. Farnbacher / Dirk Muller / Rob Bell Finished 7th
St. Petersburg April 5th Dominik Farnbacher / Dirk Muller Finished 1st
Long Beach April 19th Dominik Farnbacher / Dirk Muller Finished 1st
Miller Motorsports Park May 18th Dominik Farnbacher / Dirk Muller Finished 3rd
Lime Rock July 12th Dominik Farnbacher / Dirk Muller Finished 4th
Mid-Ohio July 19th Dominik Farnbacher / Dirk Muller Finished 1st
Road America August 9th Dominik Farnbacher / Dirk Muller Finished 3rd
Mosport August 24th Dominik Farnbacher / Dirk Muller Finished 4th
Belle Isle August 30th Dominik Farnbacher / Dirk Muller Finished 9th
Petit Le Mans October 4th Dominik Farnbacher / Dirk Muller Finsihed 3rd
Laguna Seca October 18th Dominik Farnbacher / Dirk Muller Finsihed 1st
End of Season Results:
Finished 2nd in GT2 Team Championship
Dominik Farnbacher – 3rd in Drivers Championship
Dirk Muller – 4th in Drivers Championship
2009 Race Results
Catalunya April 3-5 Allan Simonsen / Christian Montanari
Qualified 6th / Finished 3rd
Spa Francorchamp May 8-10 Allan Simonsen / Pierre Kaffer
Qualified 5th / DNF
Algarve August 1-2 Allan Simonsen / Pierre Kaffer
Qualified 7th / Finished 5th
Nurburgring August 21-23 Allan Simonsen / Pierre Kaffer
Qualified 1st / Finished 4th
Silverstone September 11-13 Christian Montanari / Pierre Kaffer
Qualified 5th / Finished 5th
24 Heures du Mans June 13-14 Dominik Farnbacher /
Allan Simonsen / Christian Montanari
Qualified 10th    DNF (15th)
Okayama Japan Oct. 31, Nov. 1 Dominik Farnbacher / Allan Simonsen
Race 1 – Qualified 7th, Finished 3rd
Race 2 – Qualified 7th, Finished 1st
The car is currently in very nice condition, having been cared for in a no-expense spared fashion throughout its professional racing career. The paint is in fine condition and the car displays very good race cosmetics throughout. The headlamps are in excellent condition. The windscreen does show some road rash, but no significant damage. The wheels are excellent, as is the interior. The engine works properly, but has not been rebuilt. The car was successfully tested in November of 2017 in Sebring, and the car has been gently used to maintain its condition in good working order.
Infinitely more capable and collectable than 430 Challenge cars, the F430 GT2 is the ultimate F430 race car. This particular car was a capably and professionally run example, and boasts fantastic period racing history. The car has never been seriously damaged, and is eligible in its current configuration for professional racing in the United States, Europe, as well as Asia. It represents the ideal weapon for the Ferrari enthusiast looking to go racing professionally, or to add to his collection of historically significant racecars.
This car  finished 19/21 races and placed first in class seven times.
Direkt link to the sale: https://racecarsdirect.com/Advert/Details/87713/ferrari-430-gt2-race-car-2608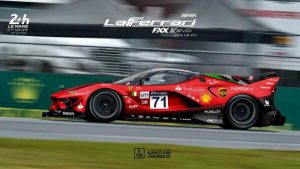 Only some renderings, but wouldn't it be great to see these cars racing?
What you think? Vote here: http://www.fchgt.com/forum/viewtopic.php?f=4&t=958
Let's talk about the 360 GTs, 430 GTs and the fantastic 458 GTs
Competition car specialist Jan B. Lühn cites increasingly stringent regulations against road-going classic cars in Europe, straightforward maintenance, and the emergence of new motorsport series, such as Masters Endurance Legends, as catalysts for the rising demand for modern racing cars. "If I were to put my personal money into a car in 2018," he comments, "I would look for a 1990s or early 2000s endurance racing car, such as a Ferrari 360, Porsche 911, Aston Martin V8 Vantage, or Chevrolet Corvette — ideally with Le Mans history." The last point is important to note, as prices can fluctuate dramatically from car to car. "You can pick up a privately entered Ferrari 458 GT2 with several national club events under its belt for as little as 350,000 euros," he explains. "But for a Works-entered Le Mans or Championship winner, you'll pay well over 1m euros."
Full story https://www.classicdriver.com/en/article/cars/10-collector-cars-experts-say-you-should-watch-2018
What a Story about and around the fantastic Ferrari 458 GTs
It's become a tradition now to say goodbye to the Ferrari 458 GTE each Christmas on DSC, as each year when it looks like its run at the top of sportscars is over, a privateer team decides to enter one again!
Now though, finally!! it looks highly unlikely that we'll see the 458 GTE in 2018 and beyond, even as a customer entry, with the new turbo-charged 488 GTE now eligible for the WEC's GTE Am class and GTE in the ELMS.
This year JMW Motorsport continued to campaign its 458 GTE at the start of the year, and sent it off in style with an ELMS GTE class win in Monza in its final race with the team before its 488 GTE was delivered (and won GTE Am at Le Mans in its very first race).
That performance by JMW this year capped off an incredible run for the car, which has taken wins in the WEC, ILMC, ELMS, WeatherTech SportsCar Championship, Petit Le Mans, Sebring, the ALMS and of course Le Mans in recent seasons.
It will most definitely be missed though, as its screaming 4.5 litre V8 has become part of sportscar racing's modern soundtrack, the successor 488 lacks for nothing in pace, but the aural outpourings of the twin turbo V8 are somewhat 'folk singer' to the 458's 'heavy metal opera star'.
n light of its wins this season, helping JMW to another ELMS title, here's a complete rundown of all its big wins and titles since its 2011 debut: http://www.dailysportscar.com/2017/12/28/2017-goodbyes-the-ferrari-458-gte.html
More about the JMB Racing Challenge Ferraris: http://www.fchgt.com/forum/viewtopic.php?f=3&t=952&p=5529#p5529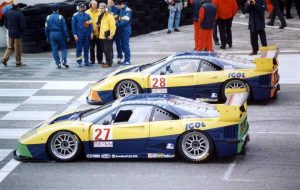 More about the fantastic F40 GTs http://www.fchgt.com/forum/viewtopic.php?f=4&t=70