For sale – 1995 Ferrari F355 Challenge – VIN 104415
Street legal, all original, never crashed, never restored, or repainted, full in first and original paint. All original parts are existing. All books, tools and Service records with many invoices and results.
Full Engine out Service in 2016 at Ferrari Palm Beach FL
Classiche certivied in Nov. 2016
Dezember 2016 Official Ferrari Challenge Display and Platin Award at the 1. Ferrari Classiche Concours Finali Mondiali Daytona
Febr. 2018 Cavallino Classic Platinum Winner
Details and history:
First owner Lawrence Kenyon raced the Ferrari in the `97 Challenge saison
Sears Point – 15h
Montreal – 19th
Las Vegas – 14th
1997 Ferrari Challenge Driver's Championship – 20th Place with 265 points
This is the absolutly best Ferrari 355 Challenge worldwide!
Details here at https://www.classicdriver.com/de/car/ferrari/f355/1995/558291
Built in 1993, the Ferrari 348 GT Competizione was designed exclusively for homologation in the GT Championship series. Some might be tempted to compare this track-oriented model to the 348 Challenge, but the truth is, it's another beast entirely.
While the Challenge received light modifications, the 348 GT Competizione received a mile-long long list of performance upgrades that transforms the car into a true race car. You might be surprised to learn, however, that that added power wasn't on that list.
Full Story: HERE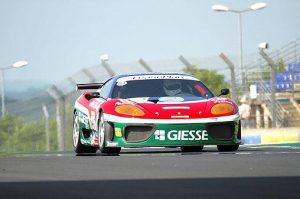 For the ninth time, the Le Mans Classic allowed us to relive the great history of the Le Mans 24 Hours race. Organized by the A.C.O and Peter Auto, this large program extended beyond the track as a festival of both the car and the car race.
This 2018 edition celebrated 70 years of Porsche, the 25th birthday of the triplet Peugeot 905, and 40 years of the Renault victory at Le Mans. To round out the weekend, several tests and demonstrations took place: Group C, Classical Jaguar Challenge, Classical Porsche Le Mans Race and a parade of Global Endurance Legends which included GTs and prototypes from 1990 to 2000.
Full Cavallino Story: https://www.cavallino.com/single-post/2018/08/27/Le-Mans-Classic-2018-Showcases-New-Ferrari-GTs