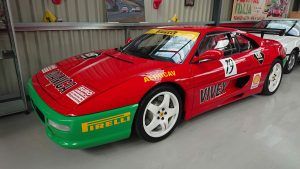 All details and more photos HERE
Ferrari F355 Challenge Factory built.
Delivered by Ferrari 06/07/1996
An outstanding collector quality Genuine Ferrari F355 challenge, 10k km's. One of only 108 factory built examples. Complete original car. Undergone beautiful painstaking refurbishment to near concours standard, with fully documented nut and bolt photographic record. Unique.
This car was driven by Jose Miguel Coletta and won the 1998 Ferrari Challenge Venezuela. This Championship winning car (No19) is the ultimate Challenge collectors piece.
This car has an outstanding history file with the cars racing records and pictures, restoration documentation, registration details and bills / receipts.
Probably the best F355 Challenge in existence.