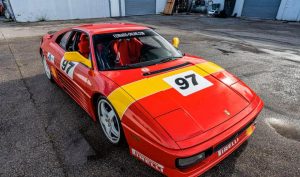 All details and more pictures here at ferraris-online.com
We are pleased to offer 1992 Ferrari 348 Challenge s/n 93016, built new as the 2nd 348 Series Speciale, which were built exclusively for the North American market, and then updated to 348 Challenge specs. Every aspect of the 348 Series Speciale was improved, with a host of incremental changes which improved over the standard 348. The mid-mounted Tipo F119 3.4- DOHC 32-valve V8 was tuned and fitted with a freer-flowing exhaust system which boosted total output to 312 horsepower which, when combined with a shorter final drive ratio gave a 0-60 miles times of 5.3 seconds. Further enhancements included revised suspension settings, Pirelli P Zero tires, new F40-inspired front and rear bumpers, side skirts and a wider rear track, increased by 50mm. The body was further revised with new front and rear grilles (with minimal horizontal slats in the back) finished with chrome front and rear Prancing Horse emblems and unique taillights. Inside, F40 Kevlar bucket seats covered in Connolly leather were offered, with leather trim continued on the door panels and dashboard. Each 348 Speciale was designated by a sequential production number plate, affixed to the inside of the passenger side door post.
As a USA model, s/n 93016 was delivered from new with an EPA and DOT plate showing it was built to be smog legal and, unlike the later 360 and newer Challenge cars, the 348 Challenge cars are pre-OBDII, came with a "street" title and can be licensed for the street in most states. The Ferrari Challenge was launched in early 1993 as an entry-level series for the tifosi, expanding on Ferraris long history of building winning GT race cars, while energizing their fan base, and, hopefully, improving sales of the 348s. For 1993 the Challenge Series races was limited only to the Italian and European series, but in 1994 the 348 Challenge Series came to the US, with the first race on 11 Feb., 1994 at Moroso in Florida as part of the Cavallino Classic weekend. While most European model 348 Challenge cars were converted street cars, the North American market 348 Challenge cars were based on the Series Speciale 348tb and 348 ts modified by the selling dealers with a factory supplied "Challenge" kit as race cars. The widely accepted number for the Series Speciale cars is 32 TBs and 13 TSs for a total of only 45 Factory built Series Speciale 348s.
The 348 was the final design overseen by chief stylist Leonardo Fioravanti, known for many famed Ferraris, starting with the 365 GTB/4 Daytona, the 365 and 512 BB, the 288 GTO and the F40, the P5 and P6 and more. Power came from a dry-sumped 3.4-litre quad-cam, four-valve-per-cylinder V8 engine and these later cars are good for 312hp at 7,200 rpm, have a a wider rear track (50mm), a free flow exhaust system, and a shorter ratio final drive. The "T" in the model name 348 TB and TS refers to the transverse position of the gearbox. Everything that came after the 348 Series Speciale; the 355 Series Fiorano, the 360 Challenge Stradale, the 430 Scuderia, the 458 Speciale and the 488 Challenge are all descendants of the 348 Series Speciale.
This 348 Series Speciale, s/n 93016, was sold new by Miller Motorcars and in 1994 was updated to Challenge specs for the current owner with a Factory supplied OMP roll cage, OMP racing seats with Simpson 5-point racing seat belts, a Momo steering wheel, 18" Speedline magnesium wheels and an OMP cockpit and engine bay fire extinguisher. Miller Motorcars also added a racing clutch, solid suspension bushings, a large oil cooler behind the front grille and a bigger "wink" inside rear view mirror. As a 348 Series Speciale # 002 it also came with updated suspension pickup points, more power and lighter weight. Everything on these 348 Series Speciale cars was a little bit better and a little bit more evolved, righting a lot of wrongs with the earlier 348s.
The current owner bought the car in early 1994 with 2,000 miles, raced it in the second half of the 1994 season, sat out the 1995 season and the ran in the first race of the 1996 season at Homestead, Florida before retiring the car to re-enter air show flying, keeping the car until 2000 when it was sold to a friend who was interested in the car due to its pristine condition. It was highly detailed and shown at several regional and national Ferrari Concours shows including the 2000 FCA North American Field and Driving Concours at Colorado Springs, scoring a Silver class Award. The original owner bought it back in 2009 and has kept it since. 348 Challenge s/n 93016 has only 6,106 miles.
Today, this 6,106 mile Speciale presents extremely well overall with exceptionally nice paint. The hood, deck lid, and doors open and shut easily with excellent factory panel gaps and consistent bumper to body fit. The gloss white Speedline wheels are in very good condition with no notable damage to the surfaces or edges. The glass, trim, and body colored accents are all in excellent condition, including the chrome emblems and script and the lower Testarossa inspired door intake strakes. 348 Challenge s/n 93016 still carries its period racing livery and the side strakes are nicely accented with yellow pinstripes. The lighting and lenses throughout the car remain in excellent condition as well, showing no significant chips or marks, all of which appear to be original equipment.
The race seats are in excellent condition. The dash pad is nicely maintained boasting a clean instrument panel with correct factory features, gated shifter, and door panels unique to the Speciale. The engine compartment and trunk are likewise nicely maintained with good factory finishes and proper care. The engine is clean and properly maintained with factory finishes and engine components. The chassis appears very clean, free from any structural damage or compromise to the suspension or exhaust. The condition of the undercarriage further supports the mileage recorded on this car.
As one might expect of a low mileage, well maintained Ferrari, this 348 tb Serie Speciale Challenge car performs very well. The car is both user-friendly and street-able. The car starts instantly and idles with a throaty growl. The steering is incredibly responsive and communicative, with no play. There is a wonderfully linear, naturally aspirated feel to the powertrain, while braking is responsive and competent, with a firm, high pedal which inspires the driver's confidence. Visibility is very good, while the low stance and nicely gripping OMP racing seats truly validate the refinements that the 348 tb Speciale and Challenge cars received during development. The enormous grip of the 225/40 ZR 18 front and 265/40 ZR 18 rear Pilot Super Sports allows the car to be driven deceptively quickly for a 28 year old car. In 2015 348 Challenge s/n 93016 was serviced by Pocono Sports Cars with an engine out teardown, service and rebuild, new brakes, a new clutch, a new water pump and "sticky" switches at a cost of $16,722.53. We have the invoices on file. She comes four spare front and two spare rear factory wheels and four front and three rear white "Speedline" racing wheels plus a medium size spare race seat. Priced to sell at $79,500 or best offer.