Car is for sale, see more http://www.fchgt.com/forum/viewtopic.php?f=4&t=223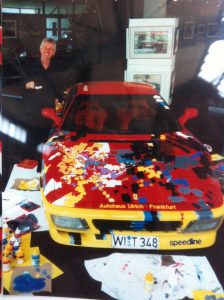 Still looking for some infos about the car. Special discussion about the ART Car http://www.fchgt.com/forum/viewtopic.php?f=3&t=16&hilit=Art+car
The duality of the F40 is highlighted in this high-octane video, which takes its predecessor, a 288 GTO Evoluzione, and two F40s (one LM version) off the congested roads of the city and onto an empty track in the hills, where they're opened up, just as they should be…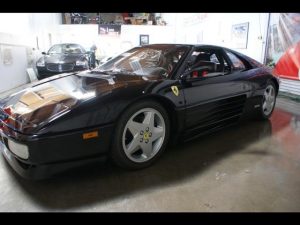 Vehicle Details
Mileage 19,940
Body Style Convertible
Exterior Color Black
Interior Color Tan
Stock Number 087544
VIN ZFFFG36A4L0087544
Transmission Manual
Engine 8
Drivetrain RWD
Seller's Notes
This is a stunning and unique car!    Serial number ZFFFG36A4L0087544 left thefactory as a street-legal 348 GTS in Nero over Tan interior and was thenconverted to Challenge specs (which is how it was done back then as opposed totoday where the cars leave as racecars from the factory).  This car which was never raced has covered only19490 miles from new.   Carefully andconsistently maintained with a complete belt service (which will be performedright before delivery to maximise the new owner's time before needing toreplace the belts again) it is ready to be driven and enjoyed.   The 348 Challenge kit consisted of a kit thatwas dealer-installed requiring 110 man hours. The kit included a full roll cage (with a removable door bar on thedriver's side) OMP racing seats 2 four point harness fire extinguisher battery disconnect and Plexiglas for the front fog lights.  For weight-savings reasons the A/Ccompressor was removed from the car although the remainder of the systemremains in place.  New under trays werefitted front and rear with brake cooling ducts.   This is not just a car for sale – it is awhole experience and history!!   Note theincluded items; two framed posters lots of magazines with articles about 348'sand 348 Challenge cars several awards the car won at various Concours eventsand a workshop manual for the 348 model as well as the original owner'smanual.   Also includes car cover andnearly-new condition original leather seats and their protective covers (seephotos) . This car is ready to be enjoyed and kept as the unique piece ofhistory it represents!   $75900  www.sfmotorsports.com      415-259-5553 Visit San Francisco Motorsports online at SFMotorSports.com to see more pictures of this vehicle or call us at 415-259-5553 today to schedule your test drive.
See more about the RISI Competizione Ferraris http://www.fchgt.com/forum/viewtopic.php?f=4&t=59
Talk about the car here at the board:http://www.fchgt.com/forum/viewtopic.php?f=4&t=843
Direkt link to GTC: http://www.gtc-collection-cars.com/car-for-sale/2006-ferrari/f430-gt2-300.html
Chassis 2446
One of the 41 Ferrari 430 GT Series 1 produced.
Nice racing history.
The car entered the 2008 24 Heures du Mans with Joey Foster, Don Kitch Jr and the Hollywood actor Patrick Dempsey.
It is sold with an extra set of wheels + some spare parts.
Michelotto totally revised the engine (38.000 Euro invoice) and the car was never raced since.
Eligible for the Le Mans Legends races organised by Masters Historic.